BOUNDLESS CURIOSITY
140 Years of the Guille-Allès Library
Introduction
This year the Guille-Allès Library celebrates its 140th birthday. The Library opened its doors for the first time on Monday 2 January 1882.
This special exhibition tells the story of the Library's founding, and the two men who made it happen, Thomas Guille and Frederick Allès. Childhood friends who left Guernsey aged just 14 to seek their fortune in America, they became successful in business, and for decades shared a dream to one day return home and start a library.
These two lifelong friends and partners left behind a legacy that has enriched the lives of many generations of islanders and, 140 years later, their vision still lives on.
Boundless Curiosity brings to life this remarkable story, and gives you a unique opportunity to see some of the spectacular items in the Library's collection - including John James Audubon's The Birds of America, one of the rarest and most beautiful books in the world.
The Guille-Allès Story
Great Friends, Grand Plans
1832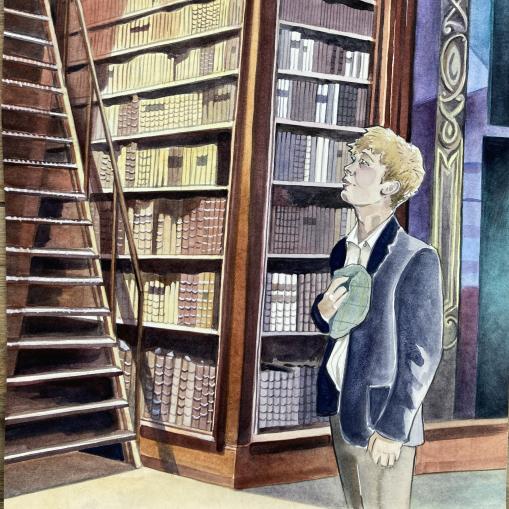 Growing up on a farm, Thomas Guille dreamt of adventure. He dreamt of expanding his horizons: of leaving Guernsey, making his fortune, and bettering himself. Encouraged by his father to learn a trade, at the age of 13 he was apprenticed to a local carpenter.
A friend of the family, Daniel Mauger, had recently emigrated to New York, establishing a successful painting and decorating business. On a return visit to the island, Mauger's tales of this 'new world' so enthralled the young Thomas that he asked for his parents' permission to accompany him back to America. In February 1832, aged just 14, he left Guernsey and sailed across the Atlantic to become an apprentice in Mauger's firm.
On arrival in New York, Mauger sponsored Thomas's admission to the vast Apprentices Library, a department of the General Society of Mechanics and Tradesmen. As he was to tell it later, on his very first evening in the library, Thomas decided there and then that one day he would return to Guernsey and found a similar institution.
"Never shall I forget the emotion of wonder and delight which seized me when, for the first time, I entered the library…"
Listen to this extract from Thomas Guille's diary:
In 1834, Thomas was joined in New York by his great friend Frederick Allès. A little younger than Thomas, when he turned 14 Frederick decided to follow his friend to America, joining him as an apprentice of Daniel Mauger.
The boys lived together in Mauger's home, inseparable companions as they had been in Guernsey. Thomas shared his library dream with Frederick, who was equally excited by the idea. In their spare time they began visiting auctions and buying books.
By the time Thomas was 20, they'd built up a collection of several hundred volumes.
The Guille Library
1856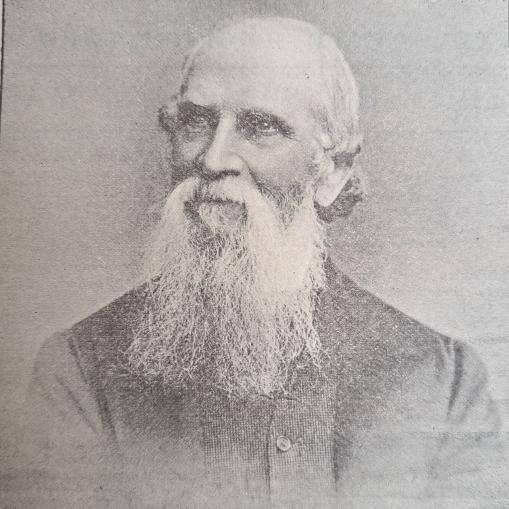 Over the next few decades, Thomas Guille made frequent trips back to Guernsey. On one such visit in 1856, he made his first attempt to turn his library dream into a reality. He divided his now vast collection of books into five sections, which he placed in five locations around the island. His intention was to establish a circulating library, with the collections rotating at intervals.
He called it the 'Guille Library', and it was met with some initial interest. But Thomas soon returned to New York and, without his oversight, the scheme failed to take off.
A Dream Realised
1882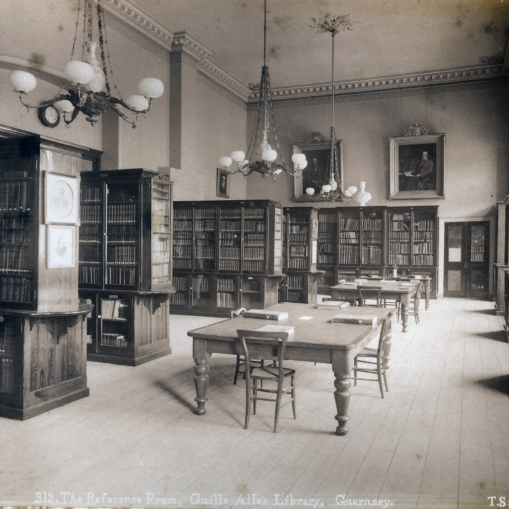 In 1869, after a near-death experience from sunstroke, Thomas settled his business affairs in New York and returned to Guernsey permanently, bringing his books with him.
He began to explore new ideas for his library project, but his plans were derailed when he suffered a terrible bereavement. In 1871, during a birthday picnic on the south coast cliffs, his wife Eliza tripped on dry grass and fell to her death from the clifftop. It took Thomas years to recover from the tragedy, but eventually he found solace by immersing himself ever more completely in his library scheme. And now, finally, he had something workable in mind.
In 1881 Frederick Allès returned to Guernsey, reuniting with his old friend and partner. Together, they leased from the States of Guernsey the Assembly Rooms in Market Street.
Built in 1782, the building had been used for nearly a century as a venue for parties, balls, and dances for the island's aristocracy. Thomas & Frederick filled it with their collection of books, amassed over nearly half a century, and at last the new Guille-Allès Library was thrown open to the public on Monday 2 January 1882.
Building Works
1888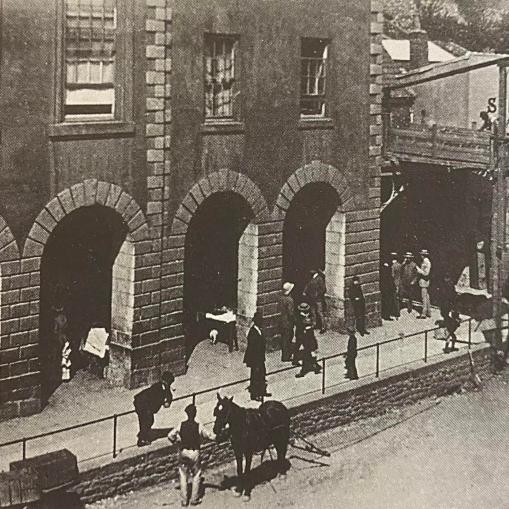 Thomas and Frederick were not finished there. Wishing to expand the space available for the Library, in December 1883 they bought the building from the States for £900, and then added a plot of land behind. Major building works took place, including a raising of the roof to add a new floor to the building (plus a 'widow's walk', which we now call the Story Tower) and the construction of a grand Entrance Hall - seen as scaffolding in the photograph above.
On Monday 26 November 1888, the newly transformed building opened to the public, and the Library was complete.
Listen to this report from The Guernsey Advertiser about the renovated Library:

Early Days
1889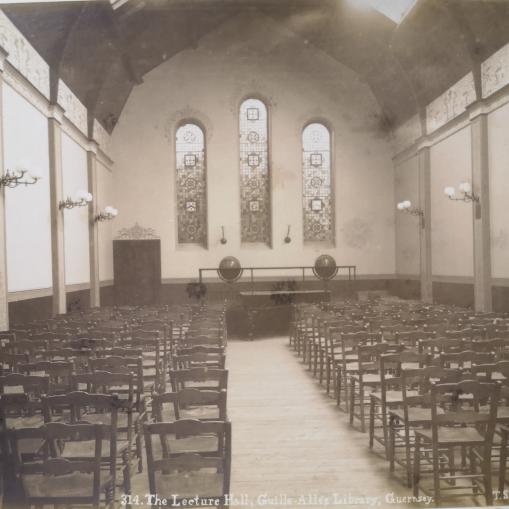 The Guille-Allès started life as a subscription library, with subscribers charged 10 francs a year. The early lending and reference library comprised 70,000 books in all branches of literature and science, mostly in English and French. New and popular books were regularly added, and there was a Suggestion Book where subscribers could make recommendations.
As well as the traditional library, the Founders were keen to create a kind of hub for community, education, and culture. Launched in 1890, a weekly series of lectures proved popular, covering subjects across science, art, and literature. These attracted huge audiences, regularly filling the 200-seat Lecture Hall (now the Hayward Room).
The Lecture Hall was also the venue for classes including music lessons, while numerous clubs and societies took up residence including a chess club and even a table tennis club. The Guille-Allès Musical Association numbered some 200 performers, and gave regular concerts.
This programme of lectures and classes was very important to the Founders, who had always wanted the 'Institution' to become Guernsey's cultural and educational centre. As Thomas Guille wrote to his chosen successor as Managing Director: 
"You must never let it become a library and nothing more."
The Museum Opens
1890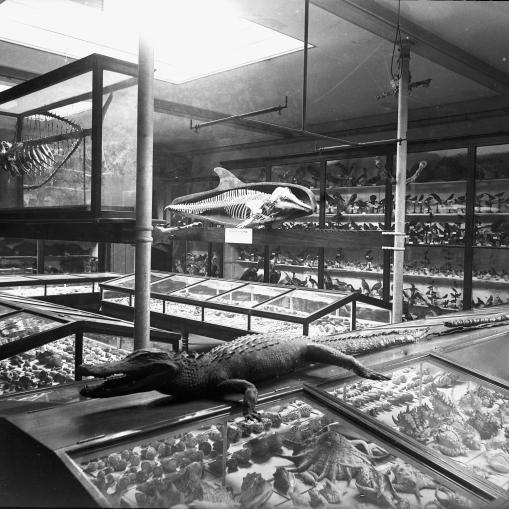 The opening of the Library was a significant moment in Guernsey's cultural and intellectual history. The new Library gave islanders easy, instant access to a world of information in a way that largely hadn't been possible before.
This was reinforced by the addition of a museum, which stretched the length of the third floor and extended the name of the institution to the Guille-Allès Library & Museum. 
The museum boasted exhibits on science and natural history, which were making huge strides at the time, as well as new discoveries from faraway lands. Items on display included artefacts from Ancient Rome, Ancient Egypt, and the South Pacific, as well as numerous taxidermied animals.
The nucleus of the Museum's collection was formed by the Guernsey Mechanics' Institute (later to become the Société Guernesiaise), which had been transferred to Guille and Allès's possession in December 1881. The pair worked to grow and improve what they'd inherited, adding items from their own extensive private collections, amassed over many years in New York.
The Museum remained open until 1979, when the contents were sent on long-term loan to the new Guernsey Museum at Candie Gardens.
To this day, the 'Guille-Allès Collection' plays a key part in many Guernsey Museum exhibitions
Guille & Allès: A Legacy
1895-96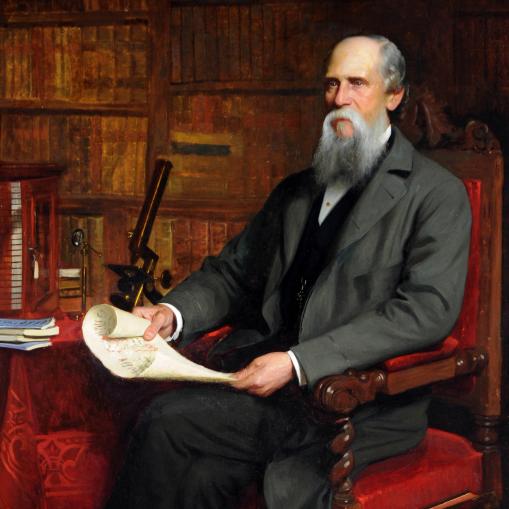 Frederick Allès died at his home in St Martin's on 20 February 1895, at the age of 77. Thomas Guille followed him on 4 December 1896, aged 79. Upon his death, the management of the Library passed into the hands of a Council and a Board of Management, the first members of which had been appointed by the Founders themselves.
Guille & Allès were remarkably far-sighted people. Before their deaths they wrote a Constitution for the Library, expressing a fervent wish that it should always be moving with the times.
"The Founders are conscious that the chief wants of today may not necessarily be the most pressing requisites of a century hence. Therefore, they wish to imbue the whole Institution with such elasticity of adaptation as shall enable it successfully to grapple with the changing necessities and varying requirements of succeeding generations as they pass. As a broad principle: whatever intellectual needs may become apparent among the people of Guernsey, the Founders of the Guille-Allès Library wish the Institution to supply."
As the decades passed, the Library cemented itself deeper and deeper at the heart of island life. As the Guernsey Press put it in an article to celebrate the Library's 80th anniversary in 1962:
"Guernsey without the Guille-Allès would be unthinkable."
Listen to an extract from Thomas Guille's speech on the presentation of his and Frederick's portraits, December 1884:
Today