13th October 2022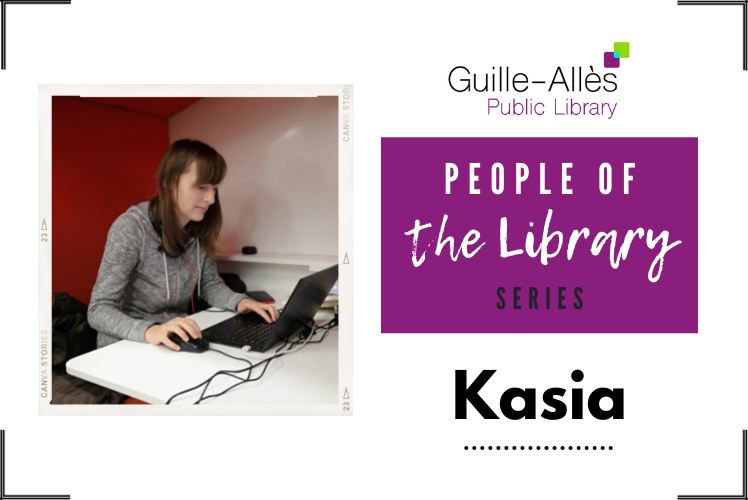 Kasia lives on a boat in the marina with her husband, two children, and their dog.
The Library is key to their life here, helping them work, play, and be part of the community. In our fifth 'People of the Library' blog, Library Assistant Beth Brown sat down in the Nook to talk to Kasia.
Beth - How do you use the Library in your daily life?
Kasia – I've come here pretty much every day since I arrived in Guernsey last October. I live on a boat with my husband, two kids and our dog! When I discovered the Library I was so excited. I work for the NHS in England so I come here to take part in virtual meetings - the WiFi connection is brilliant – and do my job in the peace and quiet.
There are some marvellous spaces, with rooms where you can spend time quietly. I also have a three-year-old daughter - she loves coming to the Library for the Tots session. She draws, she loves the projector (the Tovertafel), and running around the other kids. She's one of your youngest fans! The staff here are amazing. My daughter's fascinated with Abi (in the Children's Team) who reads the books on Saturdays, she's very animated!
B - What's your favourite thing about the Library?
K - I think the staff are very friendly, and the activities are very well thought out and educational for kids. It's also a great space to work and you can move around freely to browse the books. There are a lot of things for those who are visually impaired too - a lot of audiobooks, which is really nice. I've never seen a library before where there's so much traffic, people are constantly coming and going!
B - In what way do you think the Library is important to the island?
K - It's a community hub - there are lots of things for both children and adults, so people can come together. You promote reading to children, so hopefully they will turn into well-educated adults, who love books and love reading, with less screen time. That in turn will help them be better communicators when they grow up.
I've noticed a lot of older people coming here too - this population group can often be alone, so I think having a library like this where they can come and strike up friendships and talk to other people is really great.
People come here to work and study - I see a lot of people in the Hayward Room with their laptops. Libraries are very important in the community and I'm glad you keep being open, even through the pandemic, and I hope you aren't going to close at any time! That would be absolutely terrible for the community, keep going please!
We were originally supposed to be heading to southern Europe but because of the pandemic restrictions, and the fact that there is this library and I can spend time with my children freely without problem – that contributed to our decision to stay here in Guernsey
B - What are you reading at the moment?
K – It's called Peaceful Parent, Happy Kids - it's a wonderful book if you're a parent. The key message of this book is that the best way to bring up a young person is to strike a good connection with them and maintain it through the years. I recommend it!
----------------------------------
Click here to see more from our People of the Library blog series!