22nd February 2023
With spring just around the corner, we're sharing a few of our favourite books for a bit of gardening inspiration. Whether you have a small space for containers, want to grow cut flowers, or have your own veg patch, there's a book to help you on your journey. Click the titles to reserve today!
Don't forget to take a look at the community Seed Library next time you visit – it's open for seed swapping and sharing now.
With simple yet effective methods, such as nurturing healthy soil, optimizing space, and following a planting plan, anyone can be a productive vegetable grower while working in harmony with nature. As well as Huw's recommendations on good planning and infrastructure, he has tips for plenty of quick wins too, such as how to attract beneficial pollinators.
This is gardening done entirely in pots, yet on a grand scale that will inspire anyone who wants their doorstep or patio to be a glamorous and lively canvas that nurtures them visually and mentally. From jewel scatterings of crocus, flocks of parrot tulips and scented sweet peas to galaxies of single dahlias, towering giraffes of amaryllises grown inside for winter and endless vases of cut blooms through the seasons. Demonstrating how you can create a true floral oasis in any small space, be it doorstep, windowsill or patio, Parkinson's inspiring volume shares the secrets of gardening done entirely in pots.
In Green, Ula Maria takes a completely fresh look at creating a garden in whatever outdoor space is available – be it a roof terrace, balcony, small back yard or patio. At the heart of the book are 22 genuinely small and innovative gardens with a dazzling range of ideas to get inspired by – from a small backyard garden using reclaimed timber, evergreens and grasses to a rental rooftop terrace in the heart of the city where a cottage-style garden has been created in simple containers.
The book shows you how to manage your allotment and enjoy fresh vegetables through the year on just half an hour's work a day with weekends off. It combines expert advice from Lia Leendertz and the Royal Horticultural Society and time-saving ideas for planning the most effective use of your time and energy, giving you something to eat fresh every day of the year and ensure bumper crops in summer!
Gardening for Kids is full of inspirational ideas to get your kids excited about nature in 35 fun projects. Dawn Isaac shows you how to sow a wheelbarrow vegetable garden, make cress caterpillars, build an insect hotel, or plant a sunflower alley in your own backyard, using everyday objects and recycled junk. These fun and creative ideas will keep kids entertained-and learning about gardening-all year round.
Fully revised and updated, Monty Don's horticultural bible brings readers bang up to date with all the beloved gardener and TV presenter's methods and innovations. Packed with beautiful illustrations and practical gardening tips, Monty reveals the secrets of growing vegetables, fruits, flowers, and herbs while respecting the needs of the environment. He covers everything from planning the space and crop rotation to pruning fruit canes and staking peas.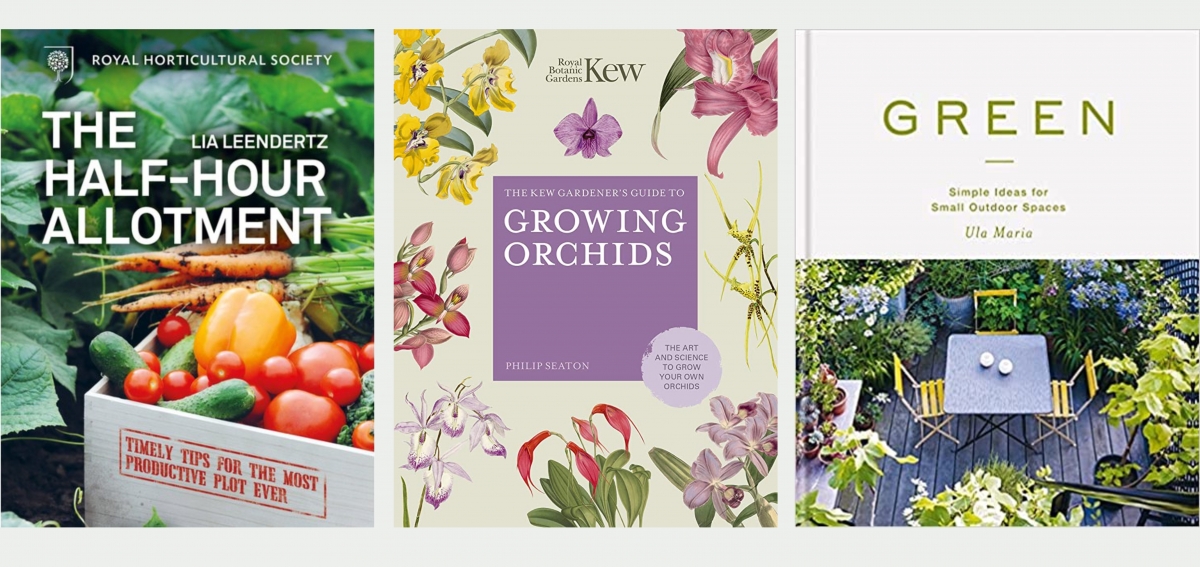 A combination of botanical beauty and expert practical advice, this guide will inspire beginners and experienced growers to love and grow 60 beautiful orchids and 12 inspirational projects. From growing from seed to harvesting vanilla pods, the projects will bring the wonderful world of orchids to life and produce confident, keen growers wanting to expand their experience of these exotic flora.
Illustrated throughout with beautiful artwork from Kew's archives.
Whether you have a roof terrace, a tiny balcony or just a window sill, there's no excuse not to do some gardening. In Modern Container Gardening, Isabelle Palmer shows just how easy it is to get started in the garden - and how to make the most of every little space. A great book for novice gardeners who may have mastered the art of indoor plants and are ready to take it outside.
This is a practical guide to rewilding your outdoor space, with advice, inspiration and step-by-step projects from Gardeners' World and Springwatch guests The Butterfly Brothers.
We all have the potential to make the world a little greener, and Wild Your Garden shows you how to create a garden that can help boost local biodiversity. You don't need specialist knowledge or acres of land. If you have any outdoor space, you can make a difference to local wildlife, and reduce your carbon footprint, too! So what are you waiting for?
National treasure and presenter of ITV's hugely popular Love Your Garden, Alan Titchmarsh brings us his month-by-month almanac of garden knowledge, facts, advice and inspiration. Here is seasonal advice on what to grow and sow, projects to engage in, as well as wildlife to spot, gorgeous gardens to visit, birds and flowers to celebrate, weather notes, and nature to reflect on in poems, music, and books.