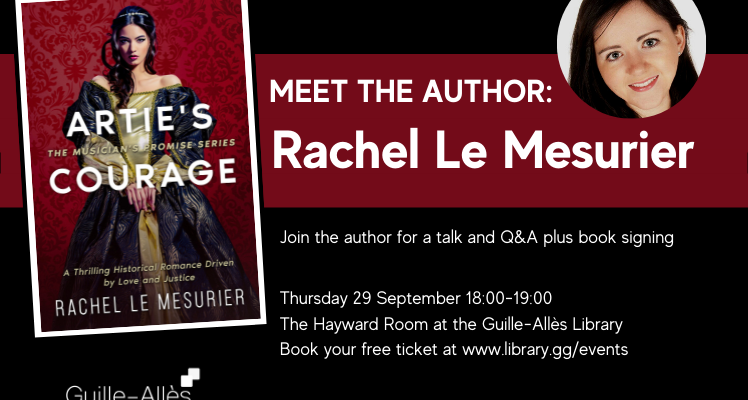 POSTPONED Meet the author: Rachel Le Mesurier
*This event is now postponed until the new year - please check back then or sign up to our newsletter here to be the first to hear about upcoming events.
Local author Rachel Le Mesurier will be joining us on Thursday 29 September to talk about the inspiration behind her book series 'The Musician's Promise'. She'll chat about the road to becoming a traditionally published author, the joys and challenges of writing historical fiction, and how to write characters your readers will fall in love with. Rachel will read some her favourite excerpts and there will be the opportunity to ask questions and purchase the book.
About Artie's Courage:
A courageous farm girl's life is changed forever when she falls in love with a charming street musician, opening her eyes to the cruel mistreatment of Mexico's mine workers and compelling her to stand with them against their oppressor - the man she is marrying.
Esperanza lives a charmed life. The daughter of a wealthy landowner, her family is thrilled when she attracts the attention of the handsome and mysterious Don Raúl, opening the door to a glittering life of opulence for them all. However, a chance encounter with a charming street musician forces Esperanza to open her eyes to the cruel underworld of Mexico's mistreated working classes, and she begins to doubt everything she ever thought she wanted. As the people begin to rise up in a bloodthirsty revolution against their oppressors, Esperanza is forced to make choices that she hoped never to face. Esperanza's decisions threaten to tear apart her family, her heart, and the country she loves.
In this brutal world where a few careless words can cost lives, will the price of freedom prove to be more than what she is willing to pay?
Led by strong female characters, ARTIE'S COURAGE turns the common damsel in distress trope on its head. Based on real historical events, this thrilling page-turner story of love and courage in the face of adversity follows characters on an emotional journey through laughter, tears, passion, and heartbreak.