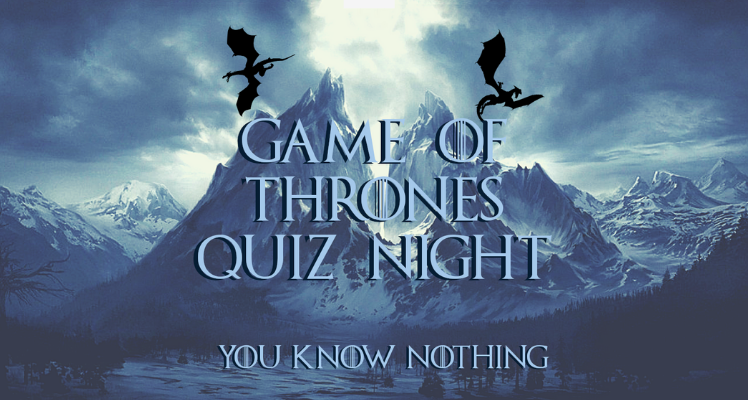 Game of Thrones Quiz Night - SOLD OUT
This event is SOLD OUT but you can still join the waiting list
You know nothing, Jon Snow...
Winter is here. Two days before the final episode airs, test your knowledge of the Seven Kingdoms at our Game of Thrones Quiz Night!
Enter a team of 4-6 people to battle it out for the Iron Throne, as we celebrate eight seasons of smooth political rule, family harmony, and the good guys always winning.
Cosplay is encouraged - it's not compulsory, but we'll be awarding a prize for best costume. 
Spaces are limited, so early booking is highly recommended!
FAQs:
How do I enter a team?
Click 'Buy Tickets' to enter your team of 4-6 people. One person on each team should buy a Team Ticket for all of you, specifying if you need 4, 5 or 6 tickets.
How much does it cost?
£3.00 per person. As well as supporting the Library, this helps us cover our costs and provide some great prizes.
Is the quiz about the TV show or the books?
Both! As the show comes to an end we will place an emphasis on that, but some questions will focus specifically on the books, so it might be handy to have a bookworm on your team.
Will you be serving dinner?
All men must dine, but unfortunately not at our Quiz Night. Hot Pie is cooking up some snacks, but we recommend you don't set out on the Kingsroad with an empty stomach.
Will you be serving drinks?
Yes. Podrick will be pouring the finest Dornish wine (and beer, cider and soft drinks) for you to purchase.
I want to play, but my friends don't know their Volantis from their Valyria. Can I enter on my own?
If you don't have a team, get in touch and we'll try to put together a team of individuals - a Brotherhood Without Banners, if you will.
For more information about the Quiz Night, call 720392 or send a raven to ga@library.gg