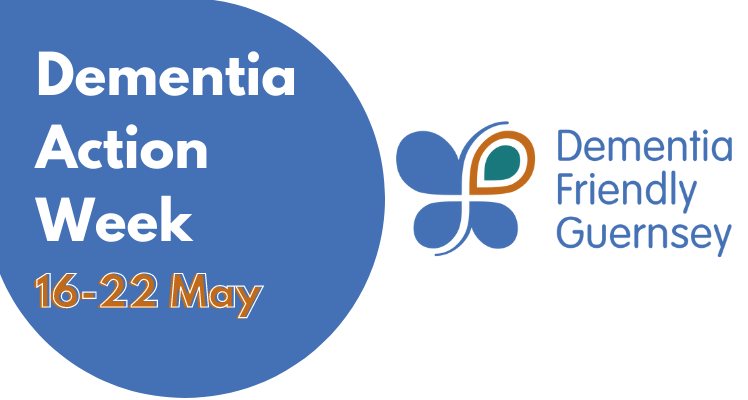 Dementia Action Week events
Together with Dementia Friendly Guernsey, we're supporting people to 'act on dementia'
Dementia Awareness Drop In: Monday 16 May 10:00-11:00 in the Dorey Room. Come along and chat to members of the Dementia Friendly Guernsey team. This session is interactive and informative, helping us learn more about dementia, how it affects everyday tasks, and how it's possible to live well with the disease. Contact Julie on 263132 or info@dementiafriendly.org.gg
Book and resource display: We have a range of useful resources and books you can borrow from the Library. Find these on the landing leading towards the first floor or ask a member of staff for more information.
Dementia Fair at Beau Sejour: Tuesday 17 May 9:00-17:00 at the Leisure Centre. Representatives from Health & Social Care, dementia charities and a range of organisations will be on hand to provide information and support, and to answer any questions. 
Tea & Tales Secret Codes special: Friday 20 May 11:00-11:45 at La Nouvelle Maraitaine. Join us for a special SECRET CODES themed Tea & Tales in collboration with Dementia Friendly Guernsey and Guernsey Museums. Experience the Guernsey Museum Enigma Machine to decode secret messages. Listen to stories about the WWII code breakers, the Enigma machine and Guernsey's own links to Bletchley Park.
For practical advice and information on what next steps to take, what to expect during and after the diagnosis process, and what support is available, visit the Dementia Friendly Guernsey website.
We host a range of resources designed to support quality of life for people with Dementia. Take a look at our dedicated webpage here.