26th October 2023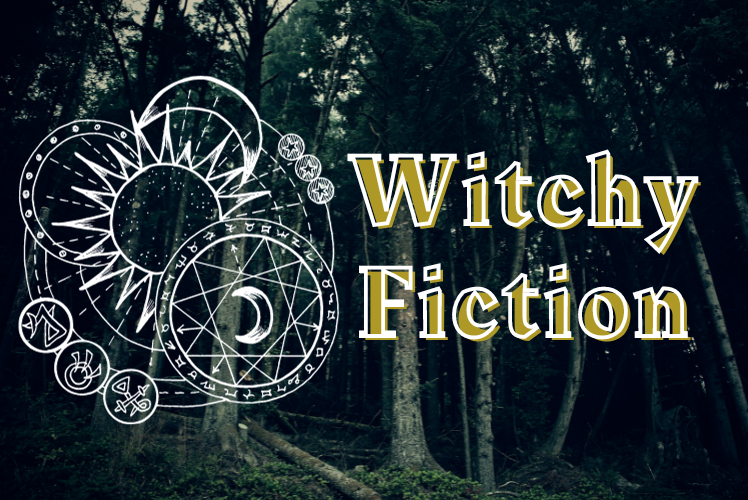 From gothic romance and dark folklore to creepy covens and supernatural fantasy – witchcraft is as popular as ever in contemporary fiction.
We've picked 9 weird and wonderful books exploring magic and witchcraft to see you through spooky season and beyond. Click the titles to reserve from the Library today.
 --------------------------------------------------------
Upon the cliffs of a remote Scottish island stands a lighthouse. Strange and terrible events have happened here. It started with a witch hunt. Now, centuries later, islanders are vanishing.
Liv Stay and her children don't believe in witches or curses. But within months of arriving on the island, her daughter Luna is the only one of them left.
Twenty years later, Luna's missing sister turns up out of the blue. She is exactly the girl Luna remembers. Same face. Same smile. Same age. Faced with the impossible, it's up to Luna to find out what really happened at the lighthouse all those years ago.
In a windswept cottage overlooking the sea, Wilder Harlow begins the last book he will ever write. It is the story of his childhood companions and the killer that stalked their small New England town. Of the body they found, the horror of that discovery echoing down the decades. And of Sky, Wilder's one-time friend, who stole his unfinished memoir and turned it into a lurid bestselling novel, The Sound and the Dagger.
This book will be Wilder's revenge on Sky, a man who betrayed his trust and died without ever telling him why. But as he writes, Wilder begins to find notes written in Sky's signature green ink and events in his manuscript start to chime eerily with the present. Is Sky haunting him? Did Wilder have more to do with Sky's death than he admits? And who is the woman drowning in the cove, whom no-one else can see?
As spitfires roar overhead and a dark figure stalks the village of Woodville, a young woman will discover her destiny. Faye Bright always felt a little bit different. And today she's found out why. She's just stumbled across her late mother's diary which includes not only a spiffing recipe for jam roly-poly, but spells, incantations, runes and recitations. A witch's notebook. And Faye has inherited her mother's abilities. Just in time, too.
The Crow Folk are coming. Led by the charismatic Pumpkinhead, their strange magic threatens Faye and the villagers. Armed with little more than her mum's words, her trusty bicycle, the grudging help of two bickering old ladies, and some aggressive church bellringing, Faye will find herself on the front lines of a war nobody expected.
Centuries ago, beautiful young Ilsbeth Clark was accused of witchcraft after several children disappeared. Her acquittal did nothing to stop her fellow townsfolk from drowning her in the well where the missing children were last seen.
When author and social media influencer Elena returns to the summer paradise of her youth to get her family's manor house ready to sell, the last thing she expected was connecting with - and feeling inspired to write about - Ilsbeth's infamous spirit. The very historical figure that her ex-childhood friend, Cathy, has been diligently researching and writing about for years.
What begins as a fiercely competitive sense of ownership over Ilsbeth and her story soon turns both women's worlds into something more haunted and dangerous than they could ever imagine.
The story begins in 1618, in the German duchy of Württemberg. The plague is spreading. The hundred year war is beginning. Katharina Kepler is believed to be a witch.
Known for her herbal remedies and successful children - among them Johannes, Imperial Mathematician and author of the laws of planetary motion - Katharina's life is changed by an accusation of witchcraft. Facing financial ruin, torture and even execution, she tells her side of the story.
6. Weyward– Emilia Hart
2019. Kate flees London – and her abusive partner – for Cumbria and Weyward Cottage, inherited from her great-aunt. There, a secret lurks in the bones of the house, hidden ever since the witch-hunts of the 17th century.
1942. Violet is more interested in collecting insects and climbing trees than in becoming a proper young lady. Until a chain of shocking events changes her life forever.
1619. Altha is on trial for witchcraft, accused of killing a local man. Known for her uncanny connection with nature and animals, she is a threat that must be eliminated…
Weaving together the stories of three extraordinary women across five centuries, Emilia Hart's Weyward is an enthralling novel of female resilience and the transformative power of the natural world.
A girl known only as Red, the daughter of a Cornish fortune-teller, travels with her father making a living predicting fortunes using the ancient method: the Square of Sevens. When her father suddenly dies, Red becomes the ward of a gentleman scholar.
Now raised as a lady amidst the Georgian splendour of Bath, her fortune-telling is a delight to high society, but she cannot ignore the questions that gnaw at her soul: who was her mother? How did she die? And who are the mysterious enemies her father was always terrified would find him?
The pursuit of these mysteries takes her from Cornwall and Bath to London and Devon, from the rough ribaldry of the Bartholemew Fair to the grand houses of two of the most powerful families in England. And while Red's quest brings her the possibility of great reward, it also leads into her grave danger.
For centuries, the women of the Owens family have been cursed: any man who loves an Owens woman will die.
It begins with a baby abandoned in a snowy English field in the 1600s. Gentle Hannah Owens takes the baby in, and as the child grows, Hannah teaches little Maria about the 'Unnamed Arts'. Maria has a gift for them – a gift that may well prove her undoing. When Maria is abandoned by the man she loves, she invokes the curse that will haunt her family for centuries. Because magic has rules, and they must be obeyed.
When historian Diana Bishop opens an alchemical manuscript in the Bodleian Library, it's an unwelcome intrusion of magic into her carefully ordered life. Though Diana is a witch of impeccable lineage, the violent death of her parents while she was still a child convinced her that human fear is more potent than any witchcraft. Now Diana has unwittingly exposed herself to a world she's kept at bay for years; one of powerful witches, creative, destructive daemons and long-lived vampires.
Sensing the significance of Diana's discovery, the creatures gather in Oxford, among them the enigmatic Matthew Clairmont, a vampire genticist. Diana is inexplicably drawn to Matthew and, in a shadowy world of half-truths and old enmities, ties herself to him without fully understanding the ancient line they are crossing. As they begin to unlock the secrets of the manuscript and their feelings for each other deepen, so the fragile balance of peace unravels...