30th August 2022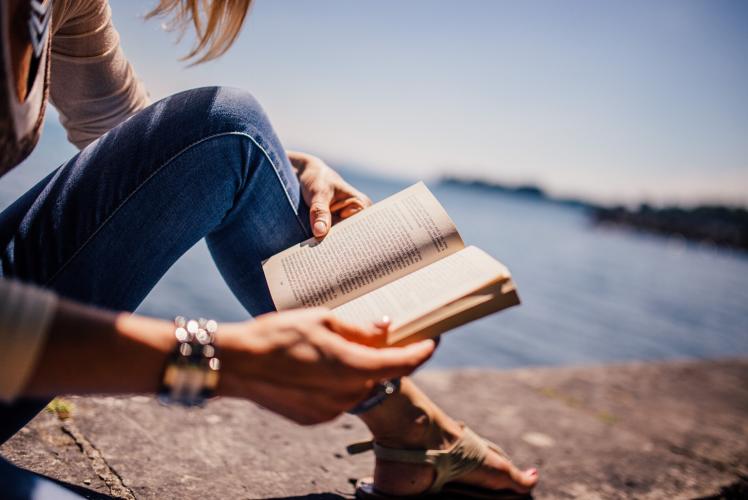 Not sure what to read next? Have no fear, our trusty library staff are here with some recommendations from what they're reading at the moment. Click the titles to find these on the website.
Hannah - Library Assistant
I'm currently reading Fear & Loathing in Las Vegas by Hunter S. Thompson - Raoul Duke and his attorney, Dr Gonzo are in Las Vegas, they're supposed to be covering the Mint 400 bike race, but instead, they're on a wild drink and drugs binge. Duke is a hilarious, if slightly unreliable narrator; most of what he writes about is based solely on his hallucinations and bizarre misconceptions of events. I'm just over halfway through, but this has proven to be a laugh-out-loud novel which is surprisingly partially based on true events in Thompson's life! Also, quick shoutout for the amazing illustrations by Ralph Steadman. Borrow Fear & Loathing in Las Vegas
Abie - Library Assistant
I'm currently reading Before the Coffee Gets Cold by Toshikazu Kawaguchi which is a touching Japanese novel about connection, hope and love. The novel takes place in a coffee shop, with a fantasy twist. If customers in the shop sit in a certain seat, they have the ability to time travel; but they must return to the present before the coffee gets cold. The first novel follows four women trying to connect with various people in their lives knowing that whatever happens in the café, won't affect the present. The book reminds readers of the fleeting nature of life and the beauty of living for the now. I will definitely be reading more of Kawaguchi's work! Borrow Before the Coffee Gets Cold

Reinet - Library Assistant
I'm currently reading Conversations with Friends by Sally Rooney - a captivating book about the lives of four friends and how they interact with each other. The book is written from the point of view of Frances, a young woman who has an interesting and ruminative personality. The story is about her experiences after she falls for an older, married man; Nick. The storytelling is delicate and precise, painting a clear picture in your mind, full of evocative language that reels you in and makes it impossible to stop reading. It's a great read but bear in mind that it does have some mature themes that won't be right for everyone. Borrow Conversations with Friends
Abi - Marketing & Communications Officer
I'm currently reading Lion by Saroo Brierley – who recounts his incredible life story in this emotional rollercoaster of a book. From a tiny village in India, Saroo got lost on a train at just five years old. Not knowing the name of his home, or even his last name, he ended up navigating the streets of Calcutta alone. Saroo is eventually adopted via an overseas programme and ends up living a typical Australian life with a family in Tasmania, until he begins to wonder about his family and village some 30 years later… The ending made me cry happy tears – it's an unbelievable story of survival and hope, and a brilliant read. Borrow Lion
For more book blogs - click here!