6th June 2022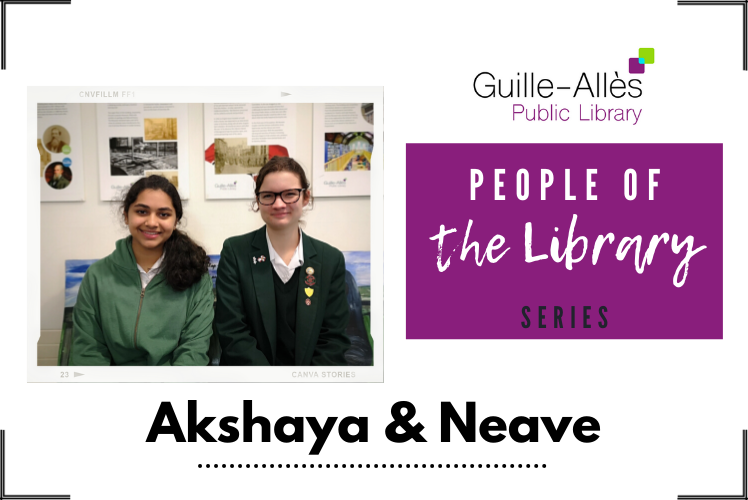 Akshaya and Neave are both 14 and attend Ladies College. Every week they come to the Library for the Teen Book Club to chat about books and develop their discussion skills. 
In our third 'People of the Library' blog series, Marketing Officer Abi Paine dropped in to speak to them on a Tuesday before Book Club, to find out what the Library means to them.
Abi: So what brings you both to the Library?
Akshaya: I come every week for the Teen Book Club. Some people come to book club as part of their Duke of Edinburgh Award, which I don't do, but I enjoy it so much. Every now and then, usually during school holidays, I come here for study or to get a book out.
Abi: What do you enjoy about the book club?
Akshaya: The people there – I do it with a few of my friends. It's a really nice atmosphere, nice to talk and I've met new people from different schools too.
Neave: I come here every week for the skills section of my Silver Duke of Edinburgh Award. I enjoy socialising and hearing all the stories all of us share!
Abi: What do you think of the Library?
Akshaya: All the staff are very nice! It's a good quiet place to do things. I expected it to be kind of 'old' and stuff but it's not, it's a lot more modern that I expected.
Neave: I was expecting it to be small, seeing as we live in Guernsey, I thought it would be a little library. But it's really good for its size and has really good facilities!
Abi: Do you have a favourite book?
A: It's one I took out from the Library called The Universe is Expanding and So Am I – I really liked it!
Neave: At the moment I'm reading The Places I've Cried Before in Public – I'm really enjoying it! 
Abi: If someone hasn't come to the Library before, is there anything you'd like to let them know?
Akshaya: It's a safe space, you can really just do anything here. It's not just somewhere to get books out, there's so many more things you can do.
Neave: It's not just about having a sit down to read a book, you can use the computers, do the puzzles, just be on your phone in a corner. But above all you can just be in this quiet environment, especially if you can't get that at home.  
Abi: And will you keep on using the Library as you become adults?
Neave: Yeah definitely. I'd bring my children here in the future. I was brought up around books but not as many as I'd have liked. Instead of all the social media and technology I'd really like them to be into a book, not just screens, and give them the experience of the Library from a young age.
Akshaya: I moved here around 2 years ago and one of the first things I heard was how good the Library was so I came to look at it, and I've been coming ever since. I might not live in Guernsey for ever, but when I do come back, I'll come to the Library!