6th September 2023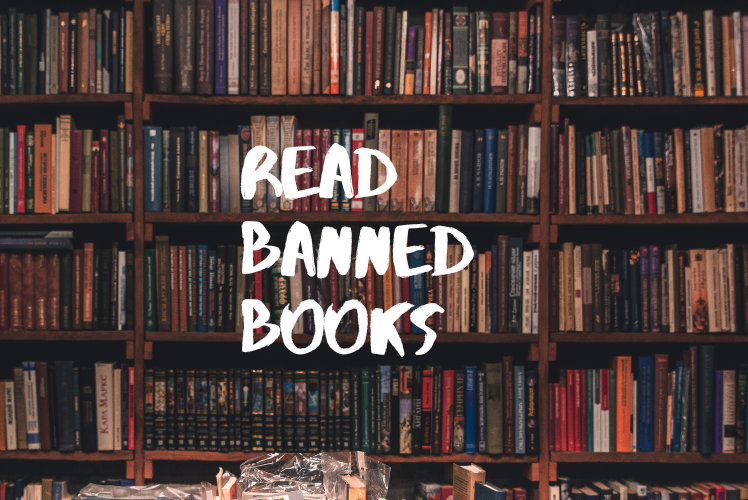 When we talk about banned books, you might think we're talking about history. You might think of totalitarian regimes, or remote incidents from the Victorian age. But did you know that it's still a major issue all around the world today?
In fact, the American Library Association (ALA) documented 1,269 demands to censor library books and resources in 2022, the highest number of attempted book bans since they began compiling data about censorship in libraries more than 20 years ago.
The books below have all, at one time or another, been subject to censorship or banning orders due to their content.
Like all libraries, one of our key missions is to ensure equal access to a world of information, ideas, and perspectives. We don't subject reading material to any form of ideological, political or religious censorship, nor commercial pressure. You can read our full mission statement here.
When we stand up for stories, we unleash the power inside every book. Enjoy your freedom to read!
-------------------------------------------------
It's Christmas and Holden Caulfield has just been expelled from yet another school. Fleeing the crooks at Pencey Prep, he pinballs around New York City seeking solace in fleeting encounters - shooting the bull with strangers in dive hotels, wandering alone round Central Park, getting beaten up by pimps and cut down by erstwhile girlfriends.
The city is beautiful and terrible, in all its neon loneliness and seedy glamour, its mingled sense of possibility and emptiness. Holden passes through it like a ghost, thinking always of his kid sister Phoebe, the only person who really understands him, and his determination to escape the phonies and find a life of true meaning.
Between 1961 and 1982, The Catcher in the Rye was the most censored book in high schools and libraries in the U.S. Most challenges were due to vulgar language and blasphemy, or for 'encouragement of rebellion'.
A poignant, humorous story of a pig, a spider and a little girl.
Wilbur the pig's life has already been saved by Fern, but when he is sold to her uncle, he realises his life is in even more danger. Enter Charlotte A. Cavatica, a beautiful large grey spider. Charlotte is determined to keep Wilbur from the chopping block, and comes up with an ingenious way to do just that.
 A parent group in Kansas sought to ban the books from schools due to themes of death and the fact that the main characters are talking animals. 
Anne Frank and her family fled the horrors of Nazi occupation by hiding in the back of a warehouse in Amsterdam for two years with another family and a German dentist. Aged thirteen when she went into the secret annexe, Anne kept a diary. She movingly revealed how the eight people living under these extraordinary conditions coped with hunger, the daily threat of discovery and death and being cut off from the outside world, as well as petty misunderstandings and the unbearable strain of living like prisoners.
The full, unedited version of the diary has been challenged and banned from some schools in the U.S due to Anne's descriptions of her own anatomy.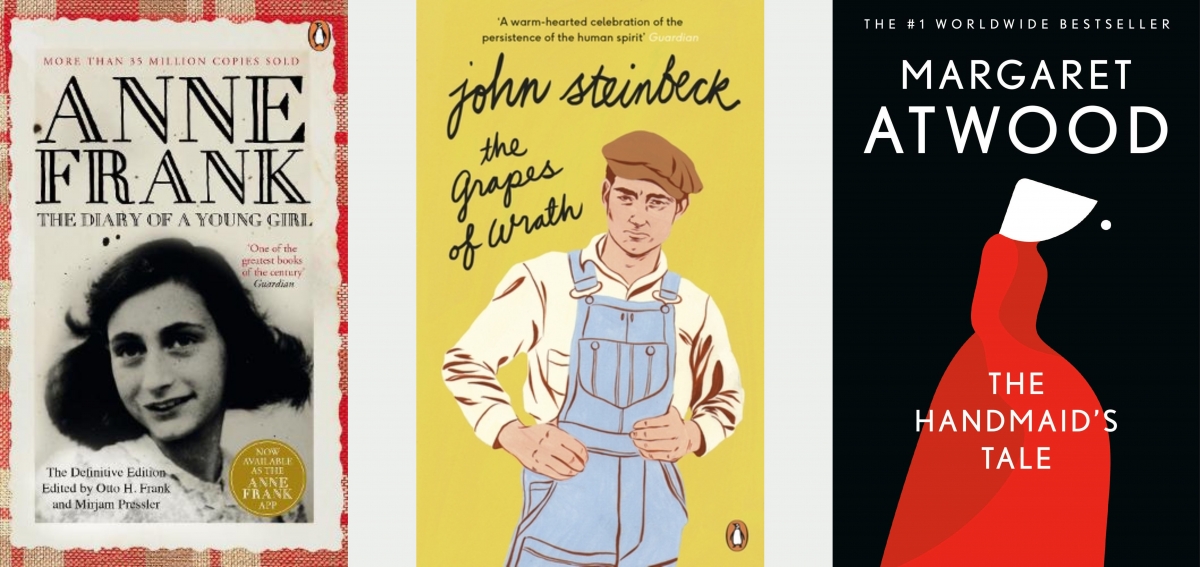 Drought and economic depression are driving thousands from Oklahoma. As their land becomes just another strip in the dust bowl, the Joads, a family of sharecroppers, decide they have no choice but to follow. They head west, towards California, where they hope to find work and a future for their family. But while the journey to this promised land will take its inevitable toll, there remains uncertainty about what awaits their arrival.
After publication in 1939, The Grapes of Wrath was banned and copies were burned in Kern County, California, the destination of the fictional Joad family.
Offred lives in The Republic of Gilead. To some, it is a utopian vision of the future, a place of safety, a place where everyone has a purpose, a function. But The Republic of Gilead offers Offred only one function: to breed. If she deviates, she will, like dissenters, be hanged at the wall or sent out to die slowly of radiation sickness. But even a repressive state cannot obliterate desire - neither Offred's nor that of the two men on which her future hangs.
Texas schools state that the book has been banned for several reasons, including profanity, 'overly sexual tones, being anti-Christian, and being overall morally corrupt'. You can read Atwood's open letter to those attempting to ban her book here.
Life isn't much fun at number four Privet Drive, at least not for Harry Potter, living under the stairs in a cupboard full of spiders, but all of that is about to change. On the eve of Harry's eleventh birthday the letters start arriving; letters written in emerald green ink on yellowing parchment with an unmistakable letter H on purple wax seals. Because Harry Potter is no ordinary boy, he is the boy who lived, the wizard whose name everyone in the magical world knows and he has a place at Hogwarts School of Witchcraft and Wizardry. An incredible adventure is about to begin and life for Harry Potter will never be the same again.
The Harry Potter series remains one of the most banned books in U.S school libraries. The bans are for 'depiction of magic and witchcraft, for containing actual curses and spells, and for characters that use nefarious means to attain goals'.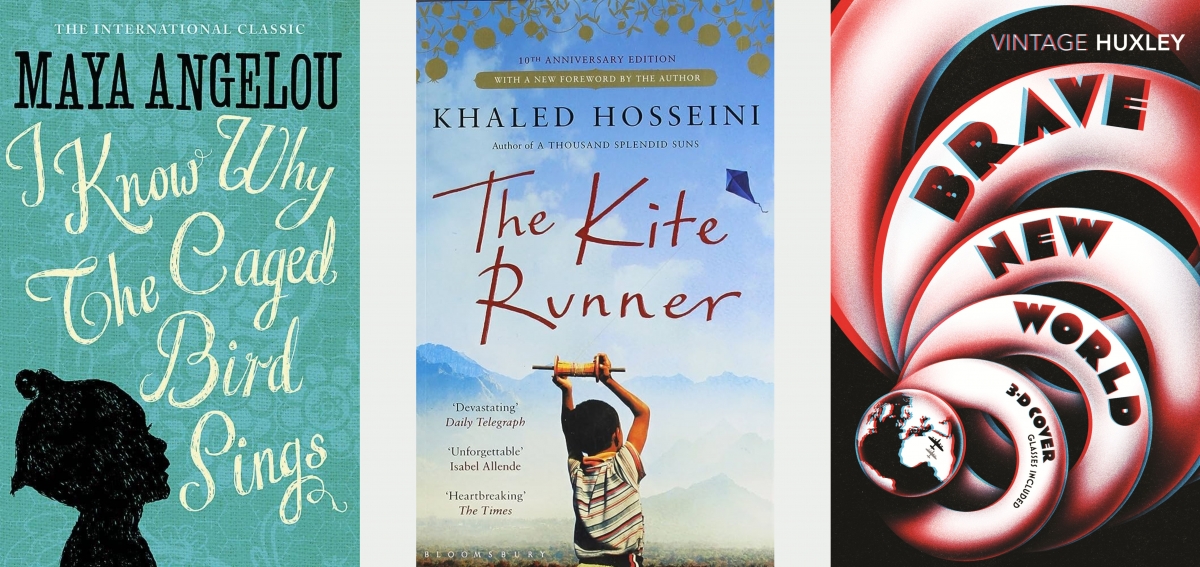 The first and best-known of Maya Angelou's extraordinary seven volumes of autobiography is a testament to the talents and resilience of this extraordinary writer. Loving the world, she also knows its cruelty. As a Black woman she has known discrimination and extreme poverty, but also hope, joy, achievement and celebration.
In I Know Why the Caged Bird Sings, Maya Angelou beautifully evokes her childhood with her grandmother in the American south of the 1930s. She learns the power of the white folks at the other end of town and suffers the terrible trauma of rape by her mother's lover.
Between 2001 and 2010, the book was ranked number six on the list of the most challenged and banned books. Challenges are for the depiction of rape and sexual abuse, and the author's treatment of topics such as racism and teenage pregnancy.
Independent Afghanistan, 1975: Twelve-year-old Amir is desperate to win the local kite-fighting tournament and his loyal friend Hassan promises to help him. But neither of the boys can foresee what will happen to Hassan that afternoon, an event that is to shatter their lives. After the Russians invade and the family is forced to flee to America, Amir realises that one day he must return to Afghanistan under Taliban rule to find the one thing that his new world cannot grant him: redemption.
Since its release in 2003, the Kite Runner has been challenged for its 'potential to inspire terrorism and for promoting Islam', as well as homosexuality and offensive language. 
My name was Salmon, like the fish; first name, Susie. I was fourteen when I was murdered on December 6, 1973.
In heaven, Susie Salmon can have whatever she wishes for - except what she most wants, which is to be back with the people she loved on earth. In the wake of her murder, Susie watches as her happy suburban family is torn apart by grief; as her friends grow up, fall in love, and do all the things she never had the chance to do herself. But as Susie will come to realize, even in death, life is not quite out of reach.
The book has been challenged by parent groups for its depiction of death and violence.
Far in the future, the World Controllers have created the ideal society. Through clever use of genetic engineering, brainwashing and recreational sex and drugs all its members are happy consumers. Bernard Marx seems alone harbouring an ill-defined longing to break free. A visit to one of the few remaining Savage Reservations where the old, imperfect life still continues, may be the cure for his distress... You can also read a reimagining of the classic in graphic novel format here.
Brave New World has come under censorship from the moment it was published in 1932. Challenges have made for the novel being 'anti-family, promoting sex and drugs', religious indoctrination, and offensive language. 
"Do you like green eggs and ham?" asks Sam-I-am in this Beginner Book by Dr. Seuss. In a house or with a mouse? In a boat or with a goat? On a train or in a tree? Sam keeps asking persistently. With unmistakable characters and signature rhymes, Dr. Seuss's beloved favorite has cemented its place as a children's classic. In this most famous of cumulative tales, the list of places to enjoy green eggs and ham, and friends to enjoy them with, gets longer and longer.
In 1965 Green Eggs and Ham was banned in Maoist China for being 'a portrayal of early Marxism'. The ban wasn't lifted until 1991.
You can read more about Banned Books Week

here

.