1st September 2022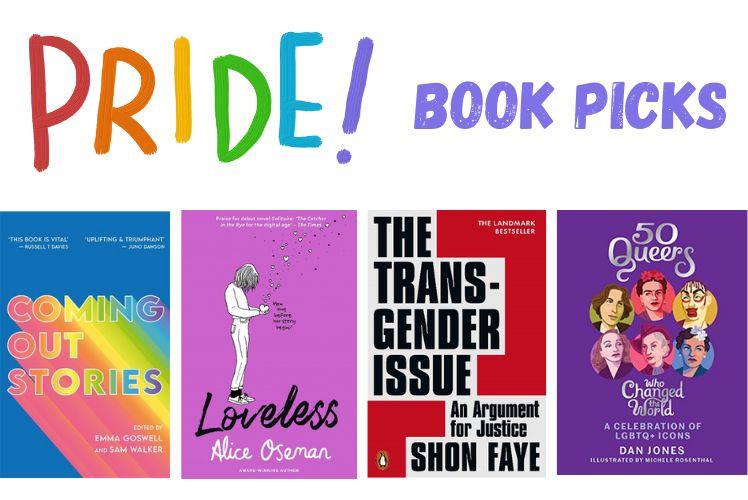 To celebrate Channel Islands Pride 2022 we've gathered together some of our favourite reads. You can find these in the Library - click the title to reserve a copy today!
1. COMING OUT STORIES BY EMMA COSWELL AND SAM WALKER
An empowering, witty and uplifting collection of coming out stories and advice from LGBTQ+ people from around the world, based on the hugely successful podcast of the same name.
Coming Out Stories is a celebration of diversity and individuality. The contributions cover a range of different backgrounds, identities, ages, races and religions, and while the stories are largely positive and uplifting, they don't shy away from more sombre experiences.
2. SHE GETS THE GIRL BY RACHAEL LIPPINCOTT AND ALYSON DERRICK
Alex and Molly don't belong on the same planet, let alone the same college campus, but when their paths cross unexpectedly, and Alex discovers Molly's hidden crush, they realise they might have a common interest after all. Because maybe if Alex can help Molly to get her dream girl, she can prove to her ex that she's serious about love. As the two embark on their five-step plans to get their girls to fall for them, though, they both begin to wonder if maybe they're the ones falling – for each other.
A sweet, slow-burn romance with loveable and funny leads. Watching the girls grow and challenge one another makes this an enjoyable page-turner.
3. THE TRANSGENDER ISSUE: AN ARGUMENT FOR JUSTICE BY SHON FAYE
The Transgender Issue is a landmark work that signals the beginning of a new, healthier conversation about trans life. It is a manifesto for change, and a call for justice and solidarity between all marginalized people and minorities. Trans liberation, as Faye sees it, goes to the root of what our society is and what it could be; it offers the possibility of a more just, free and joyful world for all of us.
Shon Faye's passionate plea for empathy during a time when transgender people are unwillingly at the centre of a media and culture war is powerful and essential reading.

Georgia has never been in love, never kissed anyone, never even had a crush – but as a fanfic-obsessed romantic she's sure she'll find her person one day. But when her romance plan wreaks havoc amongst her friends, Georgia ends up in her own comedy of errors, and she starts to question why love seems so easy for other people but not for her. Is she destined to remain loveless? Or has she been looking for the wrong thing all along?
It's rare to find a novel exploring asexuality, and while Georgia's story will not represent all ace experiences, it's refreshing to see positive ace representation in teen fiction.
(Available to borrow soon)
5. 50 QUEERS WHO CHANGED THE WORLD BY DAN JONES
50 Queers Who Changed the World is a tribute to some of the most inspirational people of all time. LGBTQ people are some of the coolest in history - legendary figures such as Freddie Mercury, Virginia Woolf, Laverne Cox, Harvey Milk and Audre Lorde have made an unforgettable impact. Queer subculture has had an enormous influence on style, music, art and literature - the queer community were the first to vogue, throw shade and say YAS to life before it hit the mainstream
This beautifully illustrated guide to LGBTQ+ icons is both accessible and informative. The perfect book to keep on a coffee table and read a snippet at time.