27th October 2022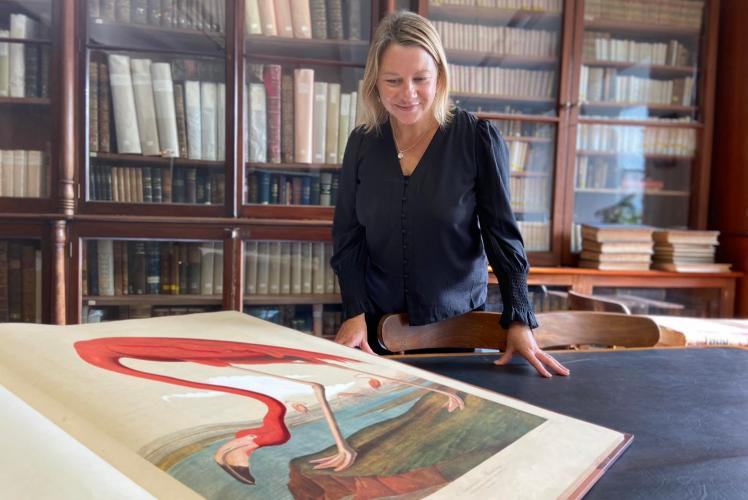 As a 
special exhibition
 opens to mark our 140th anniversary, here's the Chief Librarian, Cornelia James, to reflect on the Library's storied history.
---
I'm delighted to welcome you to BOUNDLESS CURIOSITY, celebrating 140 years of our remarkable Library.
Monday 2 January 1882 was the momentous day when our founders, Thomas Guille and Frederick Allès, opened the doors to the public for the first time. That moment was the realisation of a lifelong dream, and the story of how they made it happen is quite extraordinary. We're so pleased to be able to share it with you – it's a story that perhaps isn't very well known, but it's a fascinating and vital piece of Guernsey's history. 
The exhibition brings that story to life, and showcases some of the wonderful artefacts and rare books in our collection, including John James Audubon's The Birds of America, which is one of the rarest and most beautiful books in the world.
Reflecting on our history, I'm struck by how far the Library continues to embrace Mr Guille and Mr Allès's vision. They started the Library because they wanted to give islanders access to knowledge, and the opportunity to learn. 140 years later, we're still going strong, still striving to enrich people's lives, and still evolving to meet the changing needs of the community - exactly as Thomas and Frederick wanted. They could have never envisaged the Fab Lab, or our eBook collection, or our new Children's Library, but I know they would approve.
I'm so proud of my team, who have worked tirelessly to put this exhibition together - and I firmly believe that Mr Guille and Mr Allès would be proud of their Library today.