16th January 2023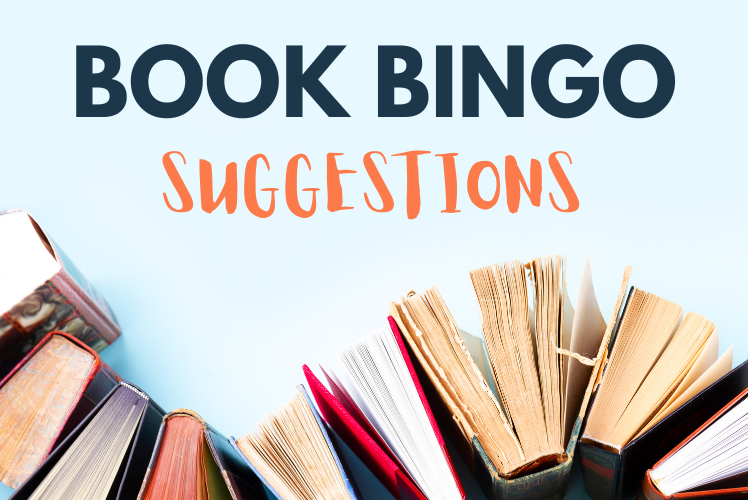 Need some Book Bingo inspiration?
Our Book Bingo challenge is back for 2023. A great way to mix up your usual reading list, and take you out of your comfort zone, this year's Book Bingo has nine new categories for you to have a go at. Find out more about the prizes to be won, and how to get your bingo card, here.
If you aren't sure what books to choose, Librarian Beth has put together some recommendations to get you started. Click the titles to find them on the catalogue or pop in for some Book Bingo browsing!
------------------------------------------------------------------------------------------------
A Bird on the Cover or in the Title
Six of Crows

by Leigh

Bardugo
Ketterdam: a bustling hub of international trade where anything can be had for the right price—and no one knows that better than criminal prodigy KazBrekker. Kaz is offered a chance at a deadly heist that could make him rich beyond his wildest dreams. But he can't pull it off alone. . . . 
A convict with a thirst for revenge. A sharpshooter who can't walk away from a wager. A runaway with a privileged past. A spy known as the Wraith. A Heartrender using her magic to survive the slums. A thief with a gift for unlikely escapes. Kaz's crew is the only thing that might stand between the world and destruction—if they don't kill each other first. 
Beth says: Love high fantasy you can get whisked away in? Pick up Six of Crows. It's like a young adult, slightly toned-down version of Westeros from George R.R. Martin's A Game of Thronesyet just as engaging. Reserve Six of Crows 
---------------------------------------------------------------------------------------------------
A True Story
Unorthodox:

The Scandalous Rejection of My Hasidic Roots
by Deborah Feldman
As a member of the strictly religious Satmar sect of Hasidic Judaism, Deborah Feldman grew up under a code of relentlessly enforced customs governing everything from what she could wear and to whom she could speak to what she was allowed to read. Yet in spite of her repressive upbringing, Deborah grew into an independent-minded young woman whose stolen moments reading about the empowered literary characters of Jane Austen and Louisa May Alcott helped her to imagine an alternative way of life among the skyscrapers of Manhattan. 
Trapped as a teenager in a sexually and emotionally dysfunctional marriage to a man she barely knew, the tension between Deborah's desires and her responsibilities as a good Satmar girl grew more explosive until she gave birth at nineteen and realized that, regardless of the obstacles, she would have to forge a path—for herself and her son—to happiness and freedom. 
Beth says: This was so fascinating, as extreme lifestyles often are. If you enjoyed Educated by Tara Westover this is a similar vibe. Reserve Unorthodox 
------------------------------------------------------------------------------------------------------
One-word Title
Misery
by Stephen King
Misery Chastain was dead. Paul Sheldon had just killed her - with relief, with joy. Misery had made him rich; she was the heroine of a string of bestsellers. And now he wanted to get on to some real writing. That's when the car accident happened, and he woke up in pain in a strange bed. But it wasn't the hospital. Annie Wilkes had pulled him from the wreck, brought him to her remote mountain home, splinted and set his mangled legs. The good news was that Annie was a nurse and has pain-killing drugs. The bad news was that she was Paul's Number One Fan. And when she found out what Paul had done to Misery, she didn't like it. She didn't like it at all. 
Beth says: This is the first Stephen King novel I read, and it has remained a firm favourite. Misery is dark, gripping, and has a certain creepiness that grows as you read along. Stephen King in all his glory.  Reserve Misery