10th May 2023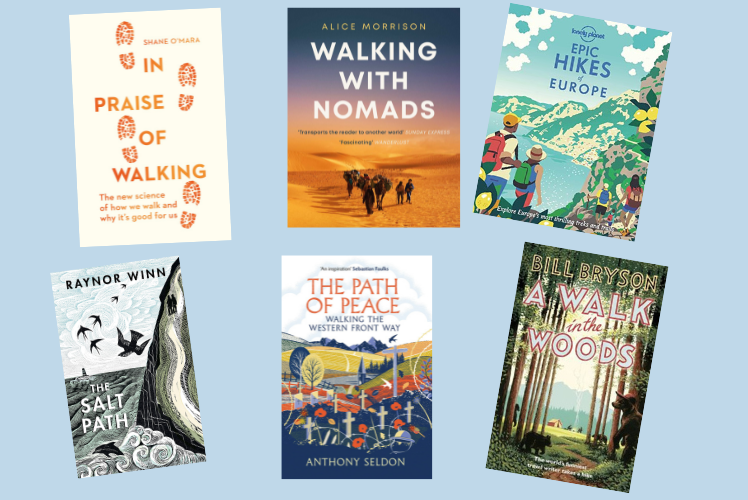 To celebrate the Guernsey Spring Walking Festival 2023 which kicks off this month, we've gathered a selection of fantastic books all about walking. Whether you want to read in the footsteps of another, or you're looking for inspiration for your next adventure, these titles should help you put your best foot forward. Click the format types to reserve them today!
Need help logging into the apps to acccess ebooks and audiobooks for free? Click here for our handy how-to guides. 
----------------------------------------------------------------------
1. In Praise of Walking - Shane O'Mara (book)
There are many fine books detailing the joys of walking but neuroscientist Shane O'Mara takes a somewhat different approach to the business of putting one foot in front of the other. Delving deep into our psyches and back in time, In Praise of Walking reveals the evolutionary reasons behind humankind's talent for perambulation.

2. Walking with Nomads - Alice Morrison (CD audiobook & eAudiobook)
Accompanied only by three Amazigh Muslim men and their camels, Scottish explorer Alice Morrison set off to find a hidden world. During her journey along the Draa river, she encountered dinosaur footprints and discovereda lost city, as well as what looked like a map of an ancient spaceship, all the while trying to avoid landmines, quicksand and the deadly horned viper.

3. Epic Hikes of Europe - Lonely Planet (book)
Lace up your hiking boots for the next in Lonely Planet's highly successful Epic series, this time exploring 50 of Europe's most rewarding and beautiful hikes. From the sun-kissed regions of Southern Europe, to North Europe's history-rich heartlands, the book covers a huge variety of themes and experiences for every type of hiker. Including full-page images, maps, and first-person accounts from writers who have completed the hikes.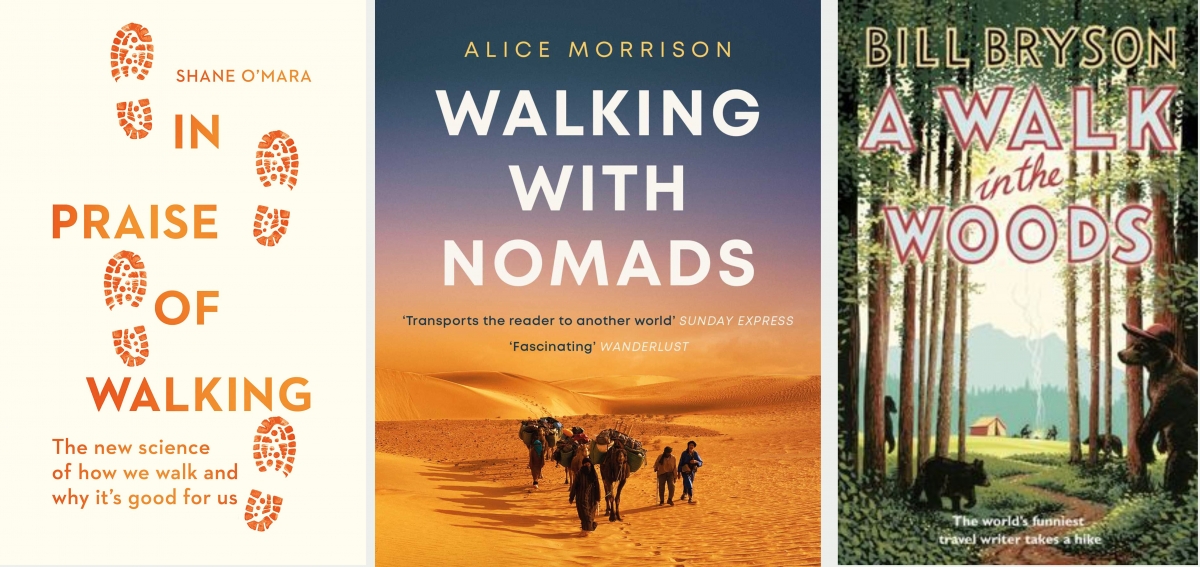 4. The Path of Peace: Walking the Western Front Way - Anthony Seldon (book & eBook)
Without a permanent home, a wife or a job, and with no clear sense of where his life was going, Anthony Seldon set out on a 35-day pilgrimage from the French-Swiss border to the English Channel. The route of his 1,000 kilometre journey was inspired by a young British soldier of the First World War, Alexander Douglas Gillespie, who dreamed of creating a 'Via Sacra' that the men, women and children of Europe could walk to honour the fallen. Tragically, Gillespie was killed in action, his vision forgotten for a hundred years, until a chance discovery in the archive of one of England's oldest schools galvanised Anthony into seeing the Via Sacra permanently established.
Just days after Raynor learns that Moth, her husband of 32 years is terminally ill, their home and livelihood is taken away. With nothing left and little time, they make the brave and impulsive decision to walk the 630 miles of the sea-swept South West Coast Path, from Somerset to Dorset, via Devon and Cornwall. The Salt Path is an honest and life-affirming true story of coming to terms with grief and the healing power of the natural world. Ultimately, it is a portrayal of home, and how it can be lost, rebuilt, and rediscovered in the most unexpected ways.

6. A Walk in the Woods: The World's Funniest Writer Takes a Hike - Bill Bryson (book & eAudiobook)
In the company of his friend Stephen Katz (last seen in the bestselling Neither Here nor There), Bill Bryson set off to hike the Appalachian Trail, the longest continuous footpath in the world. Ahead lay almost 2,200 miles of remote mountain wilderness filled with bears, poisonous plants, disease-bearing tics, the occasional chuckling murderer and - perhaps most alarming of all - people whose favourite pastime is discussing the relative merits of the external-frame backpack. Facing savage weather, merciless insects, unreliable maps and a fickle companion whose profoundest wish was to go to a motel and watch The X-Files, Bryson gamely struggled through the wilderness to achieve a lifetime's ambition - not to die outdoors.