27th March 2023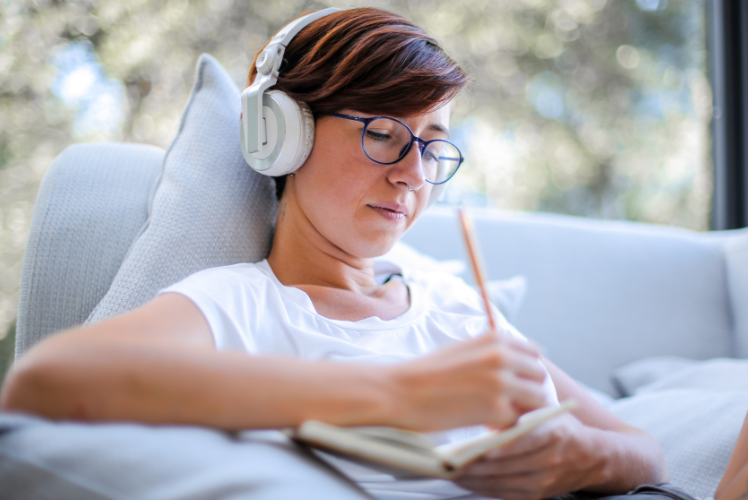 From history and self-help to business and languages, there's lots to discover and learn with Audiobooks. Audiobooks are a whole new world of reading – and with our Library apps you can download them for free with your Library card. Plus, with someone else doing the reading for you, you can listen whilst on your morning commute, cooking dinner or even walking the dog!
We've picked out 10 of our favourite Audiobooks to listen to now. Not sure how to access them with your Library card? Click here for a handy step by step guide.
Click the titles to reserve and listen! (FFO = 'for fans of')
 ------------------------------------------
On the LIBBY app:
Through the story of the first five Plantagenet queens, Alison Weir provides an enthralling new perspective on a dramatic period of high romance and sometimes low politics, with determined women at its heart.
Since 2007, entrepreneur and philanthropist Vikas Shah MBE has been on a mission to interview the people shaping our century. Including conversations with world leaders, Nobel prizewinners, business leaders, artists and Olympians, he quizzes the minds that matter on the big questions that concern us all.
Just days after Raynor Winn learns that Moth, her husband of 32 years, is terminally ill, their house and farm are taken away, along with their livelihood. With nothing left and little time, they make the brave and impulsive decision to walk the 630 miles of the sea-swept South West Coast Path, from Somerset to Dorset, through Devon and Cornwall.
How do we set aside race, colour, creed, class, age, religion, sexual orientation, physicality and all of our perceived differences? Is it truly possible to live without prejudice? Offering six stories and six simple steps, Diversify explores the value we place on social packaging - how it shapes the way we see ourselves, determines who we become and limits the opportunities available to us.
With Paul Noble's simple, relaxed approach you will learn in a way that suits you – without having to memorise long lists of words you won't use; scribbling notes as you listen; or feeling frustrated. Instead, Paul will introduce you to the basics of the Spanish language and guide you through 2 hours of everyday essentials that are practical, fun, and applicable. Just listen, interact, and learn wherever you are.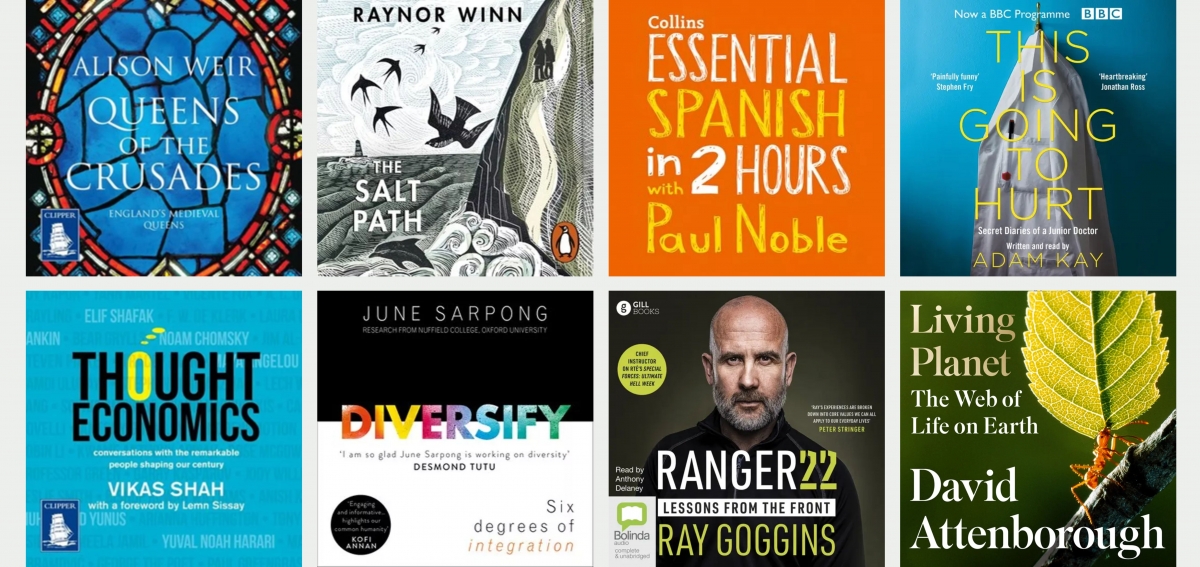 On the BORROWBOX app:
In this remarkable audiobook, Ray Goggins takes us on an exhilarating journey through his incredible career and draws on the valuable lessons he's learned to help all of us deal better with life, whatever the situation.
Welcome to 97-hour weeks. Welcome to life-and-death decisions. Welcome to a constant tsunami of bodily fluids. Welcome to earning less than the hospital parking meter. Wave good-bye to your friends and relationships. Welcome to the life of a first-year doctor. Scribbled in secret after endless days, sleepless nights, and missed weekends, comedian and former medical resident Adam Kay's This Is Going to Hurt provides a no-holds-barred account of his time on the front lines of medicine.
In Living Planet, David Attenborough's searching eye, unfailing curiosity and infectious enthusiasm explain and illuminate the intricate lives of life on earth, from the lonely heights of the Himalayas to the wild creatures that have established themselves in the most recent of environments, the city. By the end of this book, it is difficult to say which is the more astonishing - the ingenuity with which individual species contrive a living, or the complexity of their interdependence on each other and on the habitations provided by our planet.
This is the story of a family led to confront a crisis they had never foreseen. Of a happy life with two young daughters which suddenly falters, never to be the same again. Steered by her determination to understand the truth, the family begins to see the deep connections between their own and the planet's suffering.  Against forces that try to silence them, disparaging them for being different, they discover ways to strengthen, heal, and act in the world. And then, one day, 15-year-old Greta decides to go on strike.
Instead of presenting love as an ethereal concept or a collection of clichés, Jay Shetty lays out specific, actionable steps to help you develop the skills to practice and nurture love better than ever before. He shares insights on how to win or lose together, how to define love, and why you don't break in a break-up. Inspired by Vedic wisdom and modern science, he tackles the entire relationship cycle, from first dates to moving in together to breaking up and starting over. And he shows us how to avoid falling for false promises and unfulfilling partners.
 --------------------------------
Looking for more recommendations? Find them here!