1st November 2023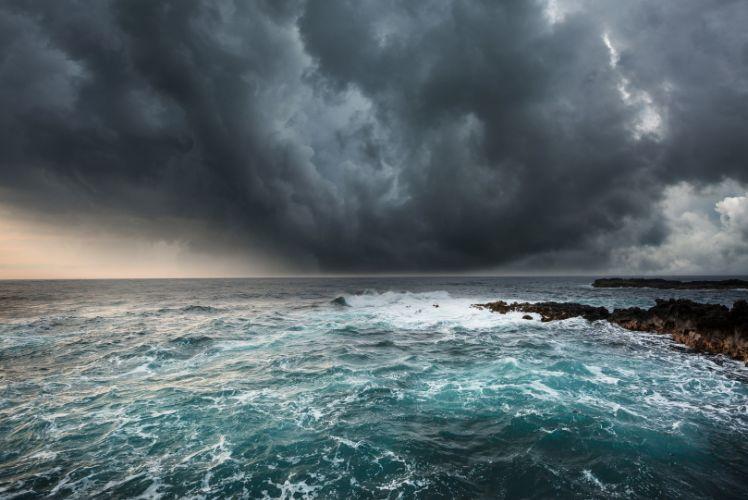 With Storm Ciarán on the way, we've been looking through our collection for books inspired by extreme weather. From a murder in a blizzard, to a romance in a hurricane, here's 12 stormy stories to read while you wait for the skies to clear. Click the links to reserve today!
Need help downloading the apps for free audiobooks and eBooks? Click here for our handy guides.
---------------------------------------
1. 61 Hours – Lee Child (book, audiobook on Libby)
A tour bus crashes in a savage snowstorm and lands Jack Reacher in the middle of a deadly confrontation. In nearby Bolton, South Dakota, one brave woman is standing up for justice in a small town threatened by sinister forces. If she's going to live long enough to testify, she'll need help. Because a killer is coming to Bolton, a coldly proficient assassin who never misses.

Reacher's original plan was to keep on moving. But the next 61 hours will change everything. The secrets are deadlier and his enemies are stronger than he could have guessed—but so is the woman whose life he'll risk his own to save.
2. Moby Dick – Herman Melville (book, audiobook on Libby, eBook on Libby)
Narrated by the crew member Ishmael, this epic whaling adventure follows the crew of the Pequod, as its captain, Ahab, descends deeper and deeper into madness on his quest to find and kill the white whale that maimed him. Beyond the surface - of ship life, whaling and the hunt for the elusive Moby Dick - are allegorical references to life, and even the universe, in Herman Melville's classic masterpiece.
3. Weather: A Novel – Jenny Offill (book)
Lizzie Benson, a part-time librarian, is already overwhelmed with the crises of daily life when an old mentor offers her a job answering mail from the listeners of her apocalyptic podcast, 'Hell and High Water'. Soon questions begin pouring in from left-wingers worried about climate change and right-wingers worried about the decline of Western civilization. Entering this polarized world, Lizzie is forced to consider who she is and what she can do to help - as a mother, as a wife, as a sister, and as a citizen of this doomed planet.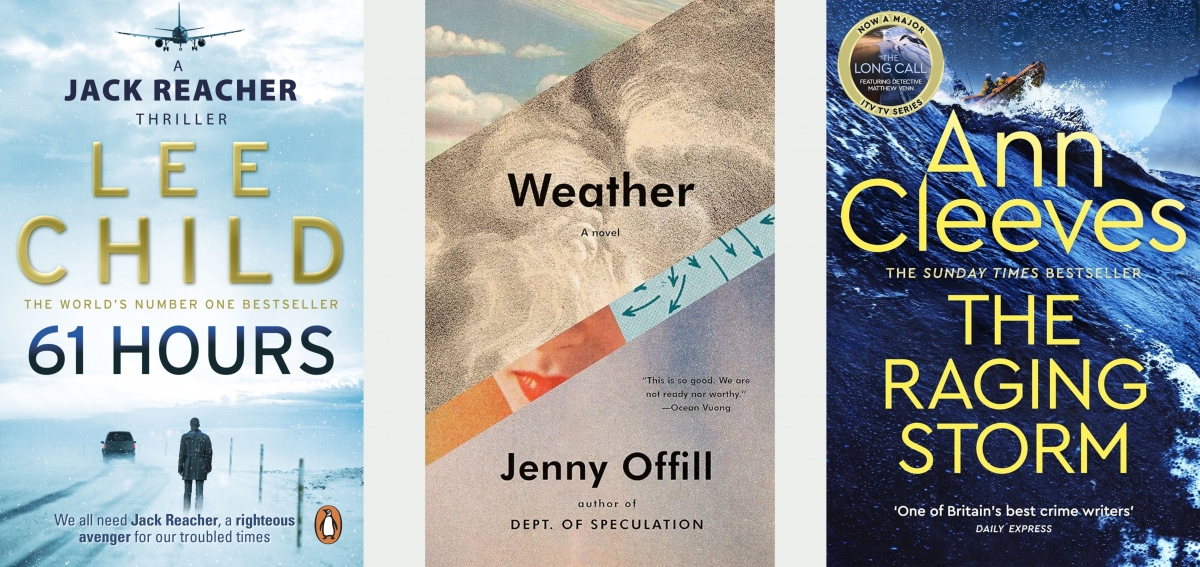 4. The Raging Storm – Ann Cleeves (eBook on Borrowbox, audiobook on Borrowbox)
When Jem Rosco – sailor, adventurer and local legend – blows into town in the middle of an autumn gale, the residents of Greystone, Devon, are delighted to have a celebrity in their midst. The residents think nothing of it when Rosco disappears again; that's the sort of man he is.
Until the lifeboat is launched to a hoax call-out during a raging storm and his body is found in a dinghy, anchored off Scully Cove, a place with legends of its own.
This is an uncomfortable case for DI Matthew Venn. He came to the remote village as a child, its community populated by the Barum Brethren that he parted ways with, so when superstition and rumour mix and another body is found in the cove, Matthew soon finds his judgement clouded. As the stormy winds howl and the village is cut off, Venn and his team start their investigation, little realizing their own lives might be in danger…
5. Windblown: Landscape, Legacy & Loss – Tasmin Treverton Jones (book)
The Great Storm of 1987 is etched firmly into the national memory. Everyone who was there that night remembers how hurricane force winds struck southern Britain without warning, claiming 18 lives, uprooting more than 15 million trees and reshaping the landscape for future generations.
30 years on, the discovery of an old photograph inspires the author to make a journey into that landscape: weaving her own memories and personal experiences with those of fishermen and lighthouse keepers, rough sleepers and refugees, she creates a unique portrait of this extraordinary event and a moving exploration of legacy and loss.
6. A Storm of Ice and Stars – Lisa Leuddecke (YA book)
Blood-red lights have appeared in the sky over the frozen island of Skane, causing a cloak of fear and suspicion to fall over the village like a blanket of snow. In a desperate attempt to keep out the plague, the village elders barricade its borders - no-one, no matter how in need of help, will be permitted to enter in case they bring infection with them.
Teenager Janna refuses to turn her back on people seeking refuge and is banished to the swirling snow and lurking darkness beyond the village. Can she survive?
7. Wuthering Heights – Emily Bronte (book, eBook on Libby, audiobook on Libby, DVD)
In a house haunted by memories, the past is everywhere...As darkness falls, a man caught in a snowstorm is forced to shelter at the strange, grim house, Wuthering Heights. It is a place he will never forget.
There he will come to learn the story of Cathy: how she was forced to choose between her well-meaning husband and the dangerous man she had loved since she was young. How her choice led to betrayal and terrible revenge - and continues to torment those in the present. How love can transgress authority, convention, even death.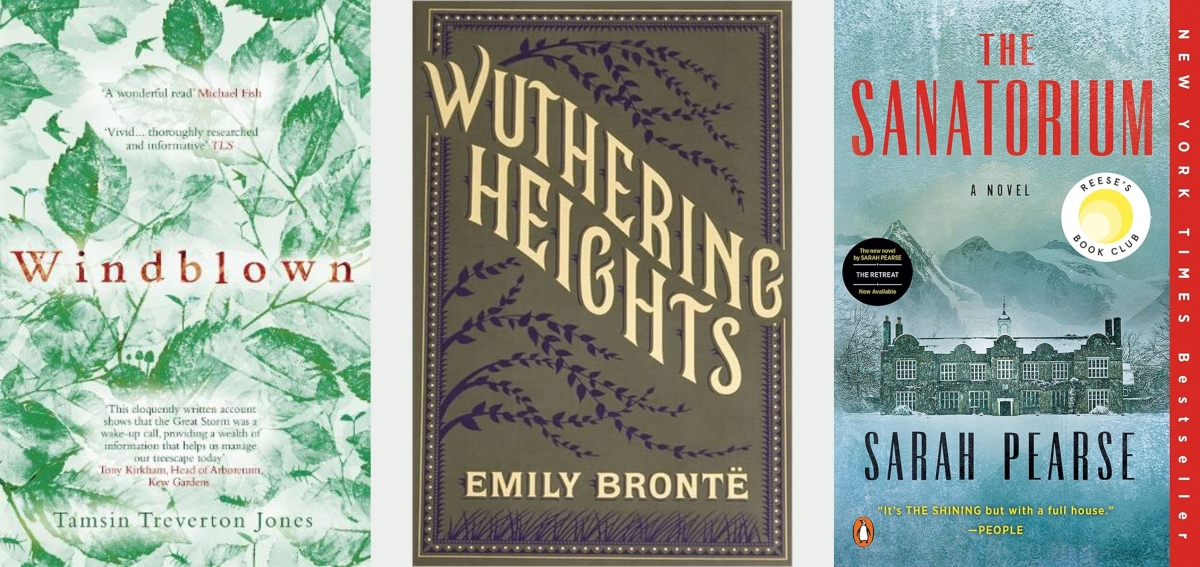 8. No Judgements – Meg Cabot (book)
When a massive hurricane severs all power and cell service to Little Bridge Island - as well as its connection to the mainland - 25-year-old Bree Beckham isn't worried - at first. She's already escaped one storm - her emotionally abusive ex - so a hurricane seems like it will be a piece of cake.
But animal-loving Bree does become alarmed when she realises how many islanders have been cut off from their beloved pets. Now it's up to her to save as many of Little Bridge's cats and dogs as she can. To do so, she's going to need help - help she has no choice but to accept from her boss's sexy nephew, Drew Hartwell, the Mermaid Café's most notorious heartbreaker. But when Bree starts falling for Drew, she has to ask herself if her island fling was only a result of the stormy weather, or if it could last during clear skies too?
9. The Sanitorium – Sarah Pearse (book, audiobook on Borrowbox)
An imposing, isolated hotel, high up in the Swiss Alps, is the last place Elin Warner wants to be. But she's taken time off from her job as a detective, so when she receives an invitation out of the blue to celebrate her estranged brother's recent engagement, she has no choice but to accept.
Arriving in the midst of a threatening storm, Elin immediately feels on edge. Though it's beautiful, something about the hotel, recently converted from an abandoned sanatorium, makes her nervous - as does her brother, Isaac. And when they wake the following morning to discover his fiancé Laure has vanished without a trace, Elin's unease grows. With the storm cutting off access to and from the hotel, the longer Laure stays missing, the more the remaining guests start to panic. But no-one has realized yet that another woman has gone missing. And she's the only one who could have warned them just how much danger they're all in.
10. Reading the Glass: A Sailor's Stories of Weather – Elliot Rappaport (book)
What's in a cloud? What separates a tropical storm from a winter blizzard? And what exactly is El Niño? Elliot Rappaport, a professional captain of traditional sailing ships, has spent three decades at sea, where understanding weather could be the difference between life and death. In 'Reading the Glass', he offers a sailor's-eye view of the moving parts of our atmosphere and unveils the larger patterns it holds: global winds, storms, air masses, jet streams, and the longer arc of our climate.
11. One by One – Ruth Ware (book)
Snow is falling in the exclusive alpine ski resort of Saint Antoine, as the shareholders and directors of Snoop, the hottest new music app, gather for a make or break corporate retreat to decide the future of the company.
At stake is a billion-dollar dot com buyout that could make them all millionaires, or leave some of them out in the cold. The clock is ticking on the offer, and with the group irrevocably split, tensions are running high. When an avalanche cuts the chalet off from help, and one board member goes missing in the snow, the group is forced to ask - would someone resort to murder, to get what they want?
12. Swimming Against the Storm – Jess Butterworth (Children's book)
Twelve-year-old Eliza and her sister Avery have lived their entire lives in a small fishing village on the coast of Louisiana, growing up alongside turtles, pelicans and porpoises.
But now, with sea levels rising, their home is at risk of being swept away. Determined to save the land, Eliza and her younger sister Avery secretly go searching in the swamp for the dangerous, wolf-like loup-garou. If they can prove this legendary creature exists, they're sure that the government will have to protect its habitat - and their community. But there's one problem: the loup-garou has never been seen before. And with a tropical storm approaching and the sisters deep, deep in the swampland, soon it's not just their home at risk, but their lives as well.