INTRODUCTION
Laura Milligan, Chief Librarian
2019 marks the mid-point of our three-year Strategic Plan.  There are four main areas that we wanted to develop over this period:
Grow and sustain readers
Expand the library experience
Promote digital inclusion
Make it easy to use the library
Taking away barriers to using the library service has been a key feature, starting with the removal of overdue charges for junior members in 2016 and for over-65s in 2018.  At the end of 2019, approval was given by the Board of Management to remove overdue charges completely.  In addition to removing any punitive barriers, the amount of administration time involved in the process was clearly out of proportion to the amount of money gathered.  Instead, that valuable staff time can be redirected to developing library services.
During the year we introduced a Kindness Policy to all staff as a means of underpinning our aim to make the library as welcoming and inclusive as possible to the whole community.  Extending opening hours on Tuesday and Thursday in October 2019 continued the accessibility theme and we will carry on monitoring and modifying the way in which we deliver services. 
The range of events both inside and out of the library has helped to raise our profile and visitor and usage statistics confirm greater use of the service.  We are lucky to have an enthusiastic and talented team working on social media and the library has enjoyed considerable exposure in the local media, including the press, television and radio throughout the year. 
As always, I must thank all the staff who, through their dedication and enthusiasm, continue to help the library service flourish and grow.
2 Service development
2.1 Events
Highlights of the year
Body positive author Michelle Elman was invited to speak at the library during April.  She is well-known as a social media influencer and has published a book on body positivity and her own journey with her body and health.  The event was fully booked and Michelle promoted her visit to Guernsey and the Guille-Allès Library on her popular social media platforms.  Her talk fitted very well with the work the library does on wellbeing and good mental and physical health.  Feedback from the audience was excellent.  She is currently working on a second book and expressed an interest in coming back to the island in the future.
Writer Duncan Barrett attended the Library in April to give a talk on the social, cultural and political aspects of Star Trek.  A storyline from Star Trek: Deep Space Nine was influenced by the Guernsey occupation, as one of the writers had friends on the island and read books on the topic.  The talk was also recorded as a podcast for Duncan's podcast channel. 
Visit Guernsey's annual Heritage Festival also took place in April which gave the library the opportunity to highlight local history resources for adults and children.  This year's theme was very broadly about Guernsey's cultural history, so staff decided to focus on Folklore. There were stock displays from our local history and fiction collections, and the Guernsey History in Action Company was invited to give a dramatic performance in the Hayward Room based on former Bailiff Sir Edgar MacCullough's collection of Guernsey folk tales in the 1880s. The Children's Library ran a day of family activities on Saturday 27th April and invited Charlie and Magnus Buchanan to the library to read from their book "Invasion of the Wavelets", a children's story based on a Guernsey legend.
The Guernsey Literary Festival took place during the first week of May, and the Library hosted a total of 11 events for both adults and children.  Once again Library staff were invited to be part of the Literary Festival Steering Group, meaning that from the outset we were involved in the organisation and planning of the whole festival and able to make the most of our relationship with the festival organisers.  The events held in the Library were all well-attended and ran smoothly.  Our association with the Literary Festival gives us a great deal of publicity and legitimacy as one of Guernsey's cultural and educational assets and is something we aim to build on in the future.
Adam Bayfield ran another successful Write In as part of the Literary Festival.  This is an evening when the Library stays open till midnight and local writers are invited to make use of our space and resources for an evening of focussed writing.  Refreshments are provided together with the opportunity to chat and network with other writers.  So far, they have been well attended and feedback has been so good, that the Write In has already become a regular event throughout the year.
Rachel Wyatt was again asked to be a judge for the Write Stuff – the Literary Festival's writing competition for local students. This year the theme was "Imaginary Lands" in connection with the writer Huw Lewis-Jones who was speaking at the festival.  Primary and secondary students were invited to write 400 words on an imaginary land and submit a map of the land they had created.  This year saw yet another increase in entries to a total of nearly 800, giving Rachel and Tony roughly 400 entries each to read.  The competition has steadily grown in popularity every year and become very successful.  The Literary Festival committee has promised more judges next year on the basis that the number of entries is now too much for two people to shortlist!
Most of the Children's events were hosted at the library.  Sophy Henn held two story sessions for younger children on the Thursday morning, with another after school session for older readers.  Saturday was busy, with best-selling, award winning author of 'There's a Bear on my Chair', Ross Collins in the Hayward Room, along with local authors Tracey Thompson and Charlie & Magnus Buchanan.  We also managed to persuade children's author, Matt Haig to come into the new Children's Library following his session on the Hub which provided a great photo opportunity!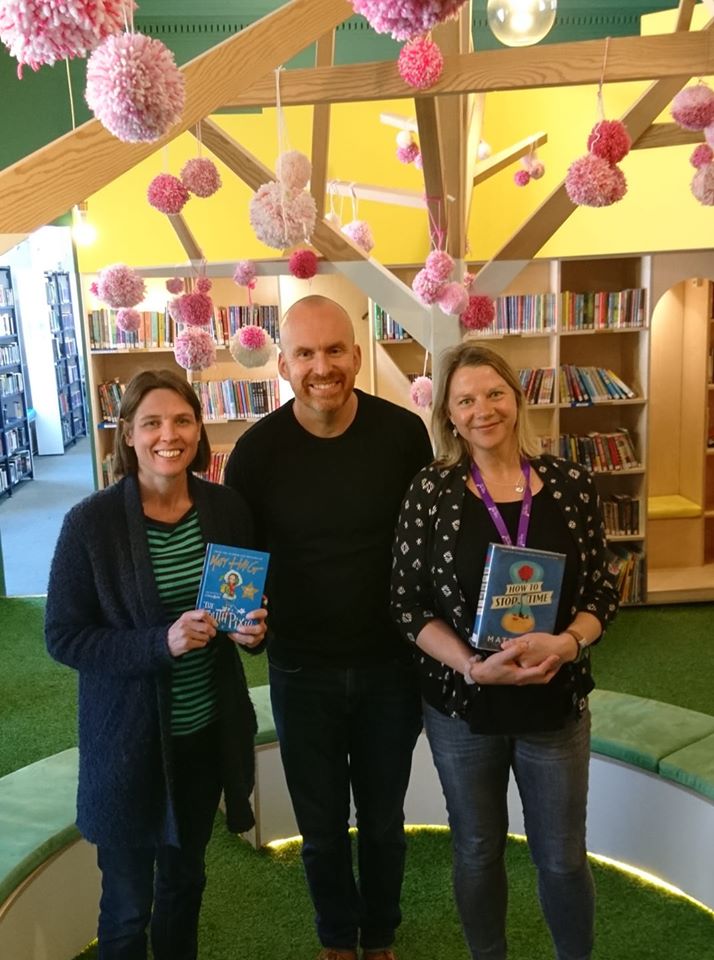 Game of Thrones Quiz Night was held on Friday 17 May.  This was a first for the library in various ways – our first ever quiz night for adults, the first time we charged admission (£3.00 per ticket) and the first time we served and charged for drinks, having obtained an occasional liquor licence.  All innovations were well-received, and it meant we more than covered our costs.
The quiz was organised to tie in with the finale of the hugely popular Game of Thrones TV series, but also to highlight the series of books by George R R Martin.  The event sold out so quickly that the decision was made to hold a second quiz the following week.
A great team of staff put in an enormous amount of work to come up with questions, decorate the Hayward Room, organise food and drinks, and prepare costumes. There were 12 teams at each quiz, with more than 120 people attending in total.
The response from participants was overwhelmingly positive.  In a feedback survey emailed to team captains after the event, 90% of people answered 5 out of 5 to the question 'How satisfied were you with the event?', with the remaining 10% answering 4 out of 5.  Written feedback included: -
"The quiz was great, and we were so impressed with the effort made by the library team, the decorations, the costumes and the attention to detail. We have recommended the quiz to friends and would love to do another one."
"We were blown away by the effort that had gone into the decorations, costumes, and snacks, and the hosts for the night were brilliant at setting the atmosphere. Exceeded my expectations and would definitely attend again if it was on a theme, I was passionate about."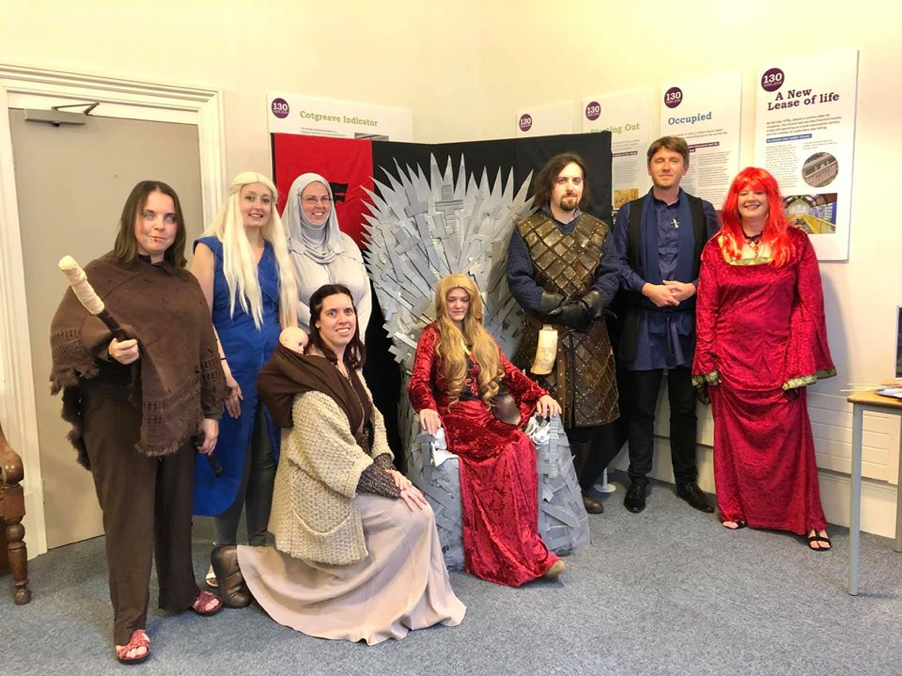 The Book Bingo reading competition finished at the beginning of July.  It's the second time we have run the competition, and this year more than 300 people took part, which has established it as an annual event.  We posted the picture of our five winners on social media, which yielded some great feedback: -
"I have really enjoyed taking part in this... what a great idea. It's made me read books I might not otherwise have read. For example, I've put off reading The Tattooist of Auschwitz for a year and this has made me read it. I'm so glad I did."
Author visits - On Thursday 4 July we hosted an author talk with crime novelist Lara Dearman to tie in with the release of her second book, 'Dark Sky Island'. Lara's novels are set in Guernsey and Sark, and she took part in a similar event with us in December 2017 when her first book was published.  Adam Bayfield interviewed her on stage, and she gave a couple of readings and finished with a book signing.  The response was excellent and written feedback included, "My first-time hearing of this author, however I have already raved about this event to 5 people."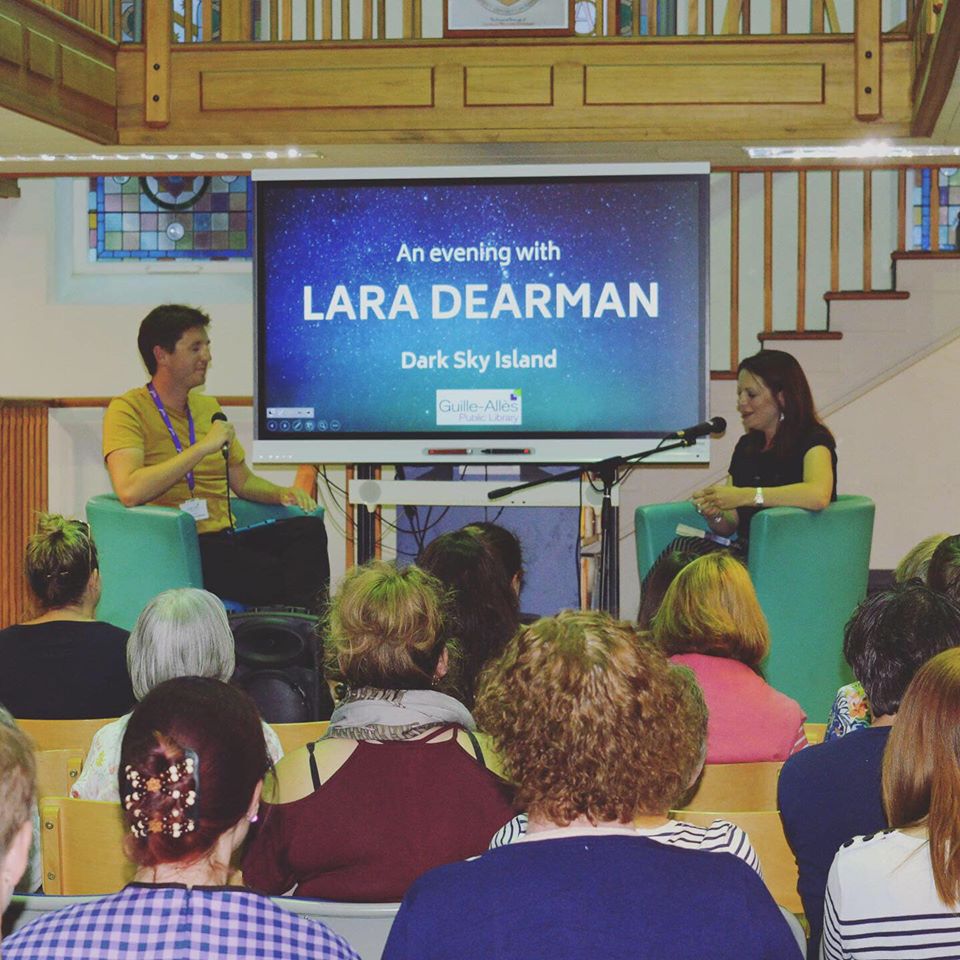 Shakespeare in the library - St James asked us to collaborate in promoting performances by the Royal Shakespeare Company in July.  Two events were held at the Library with two visiting actors.  There was a Shakespeare TOTs session with about 15 children and their carers attending and an after school interactive event with about 35 children in attendance.  We were also the sign-up point for the Shakespearean Insult Generator which brought a huge number of families into the Library. 
Drag Queen Story Time - On Friday 27 September we hosted our first ever Drag Queen Story Time with visiting performer Aida H Dee.  DQST is an initiative run by a Bristol-based organisation called Drag Queen Story Time, UK.  They have been organising these events successfully in libraries across the UK for several years.  Local LGBT awareness group Liberate approached the Guille-Allès with an offer to help us organise an event of our own.  Two sessions were arranged and, on both occasions, tickets were booked rapidly.  Aida read stories including 'We're Going on A Bear Hunt' and led the children through energetic renditions of 'Heads, Shoulders, Knees & Toes'.  Feedback, both verbal and written, from parents attending the sessions was overwhelmingly positive.  One parent described it as "nothing less than the best story time we have ever attended", a sentiment that was echoed by several others.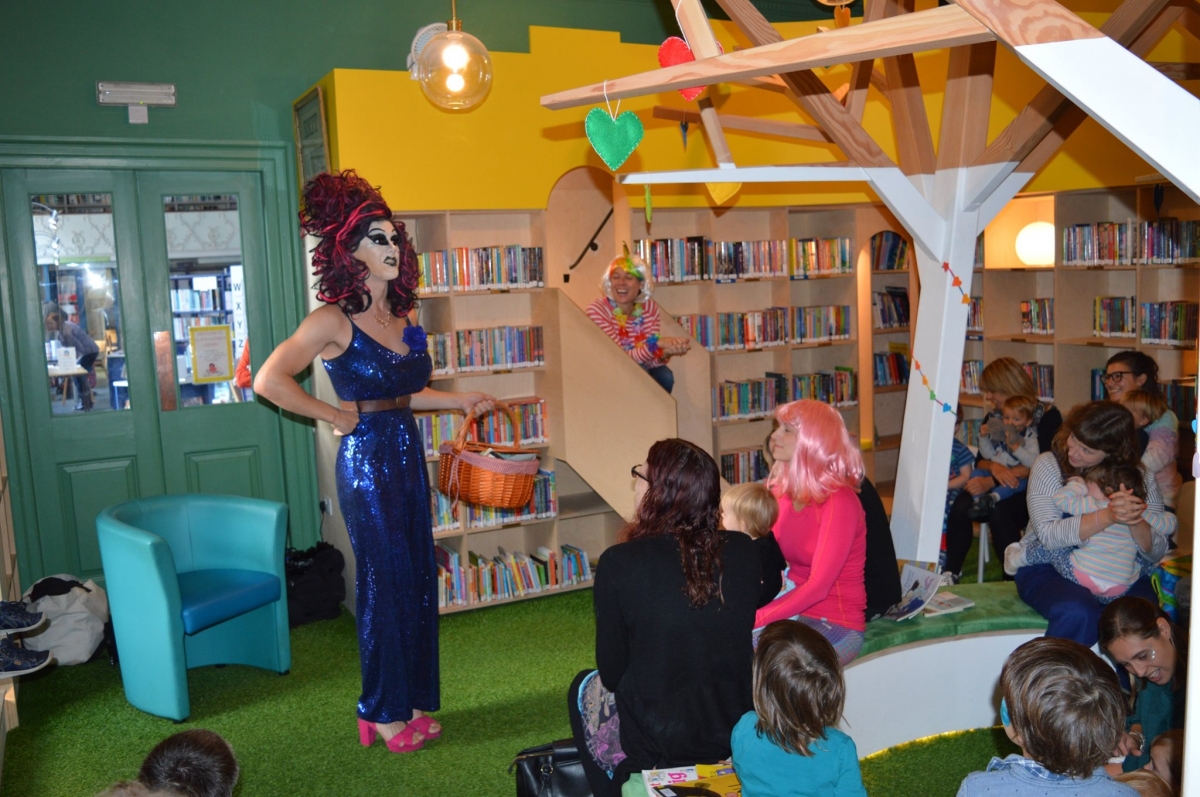 Fun Palaces - On Saturday 5 October we took part in the national Fun Palaces weekend, an annual campaign to promote culture at the heart of community.  This is the fourth year we have participated, and once again we did so in collaboration with Guernsey Museums.  We ran a full programme of events and activities throughout the day, including: a Japanese Room (to tie in with the Museum's Japan exhibition), a coding station, a writing/self-publishing workshop with a local author, a Green Screen photography station, a music workshop for children, a Makerspace, and a performance in the Entrance Hall by a local choir.
Footfall was very good – the highest we have seen for Fun Palaces so far – and verbal feedback was extremely positive. The event keeps growing in popularity every year, and now feels very much like a fixture in our annual programme.
Lady Hale - In early November we were approached by the Guernsey Law Officers about the possibility of holding an event in the Children's Library with Lady Hale, President of the UK's Supreme Court.  Lady Hale had recently been in the news as a result of the prorogation of Parliament.  While in Guernsey she wanted to do an event for children to promote the release of a new children's book about her life. 
It was a real coup to bring such a high-profile and inspiring figure to the Library, and we were delighted to host the event.  25 children attended with their parents and grandparents (filling the Children's Library), and afterwards we received some excellent feedback on Facebook: - 
My daughter had a wonderful time, thank you for the opportunity to meet Lady Hale!!
She is such an incredible woman. Well done for hosting such an inspirational event.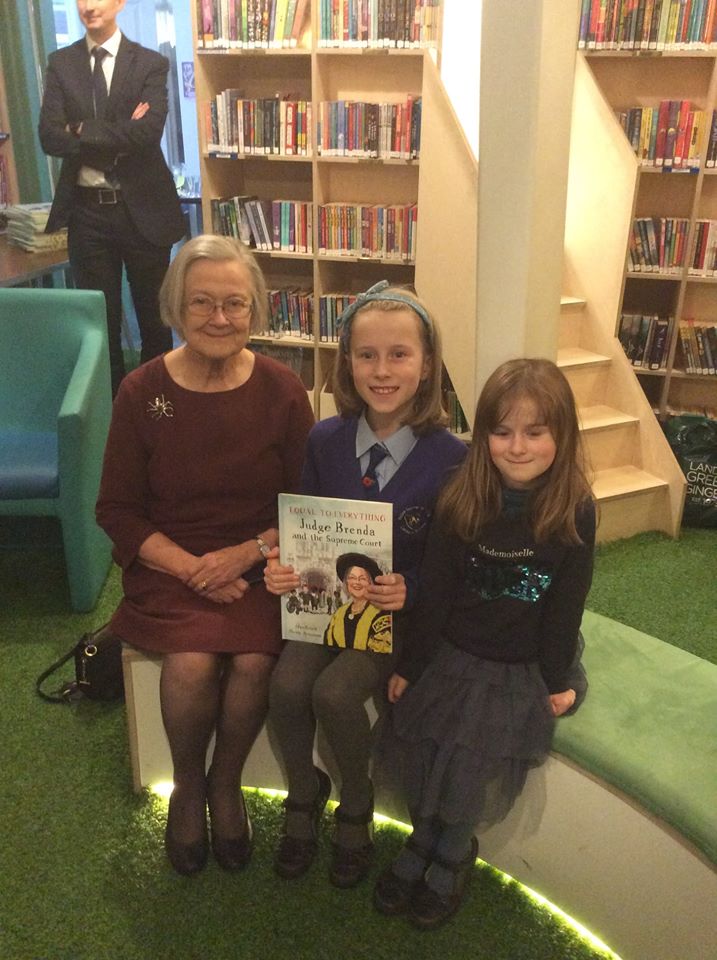 Star Wars Quiz Night - To coincide with the release of the latest Star Wars film, at the beginning of December we staged a Star Wars Quiz Night for adults. This followed the success of a Game of Thrones Quiz Night in May.
Staff worked together to organise questions, decorations, costumes, and food and drinks for the event.  Tickets (priced at £5.00 per person) sold out quickly, with 68 people attending in total (many in elaborate costume – judging the 'Costume Prize' was a challenge!)
The evening was enormous fun, and written feedback from guests (via a questionnaire emailed to team captains) was universally positive: - 
Really well organised and we were impressed with the decor and the costume effort from the library staff.  Overall, a really good night, loved it.
We were super keen to come after having a great time at the Game of Thrones quiz and were not disappointed again this time!  All the staff put so much effort in and it's really appreciated!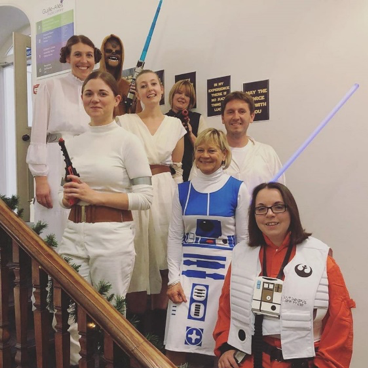 2.2 Community libraries and outreach work
Community Libraries
The community libraries continue to show slow growth but are much appreciated by their users.  In October we ran a recruitment drive for volunteers which resulted in five new volunteers to work at La Nouvelle Maraitaine Community Library which has allowed us to extend opening hours.
To celebrate World Mental Health Day on the 10 October a 'Tea and Talk' event was held during the afternoon at La Nouvelle Maraitaine Community Library.  Refreshments were provided with activities such as board games, puzzles and colouring made available.  A selection of Reading Well books was on display and Library staff were available to talk to visitors.  A larger 'Tea and Talk' event took place on the same evening at the Guille-Allès Library.
An open day took place on the 28th February to launch the Tovertafel (Magic Table) at La Nouvelle Maraitaine Community Library. More than 50 people came to see the interactive games including managers, activity co-ordinators and residents from local care homes and day centres as well as representatives from other interested groups such as Autism Guernsey, Headway, Wigwam and Speech and Language.  The event was very well covered by the press, radio and Channel TV who came along to film on the day.  Throughout the year a regular weekly staffed drop-in on a Thursday morning was organised for members of the public to have access to the Tovertafel and a booking system put in place for the care homes and day centres to use the equipment in the afternoons, when the library is not operating. Feedback from one Activities Coordinator was very positive: - 
"We all had a thoroughly enjoyable session today …. I am trying to take different residents each time and today l was almost reduced to tears.  One of our residents is in a world of her own and to see her watching what was going on and taking an interest in the table was a privilege… I am very grateful to the lovely librarians who look after us so well."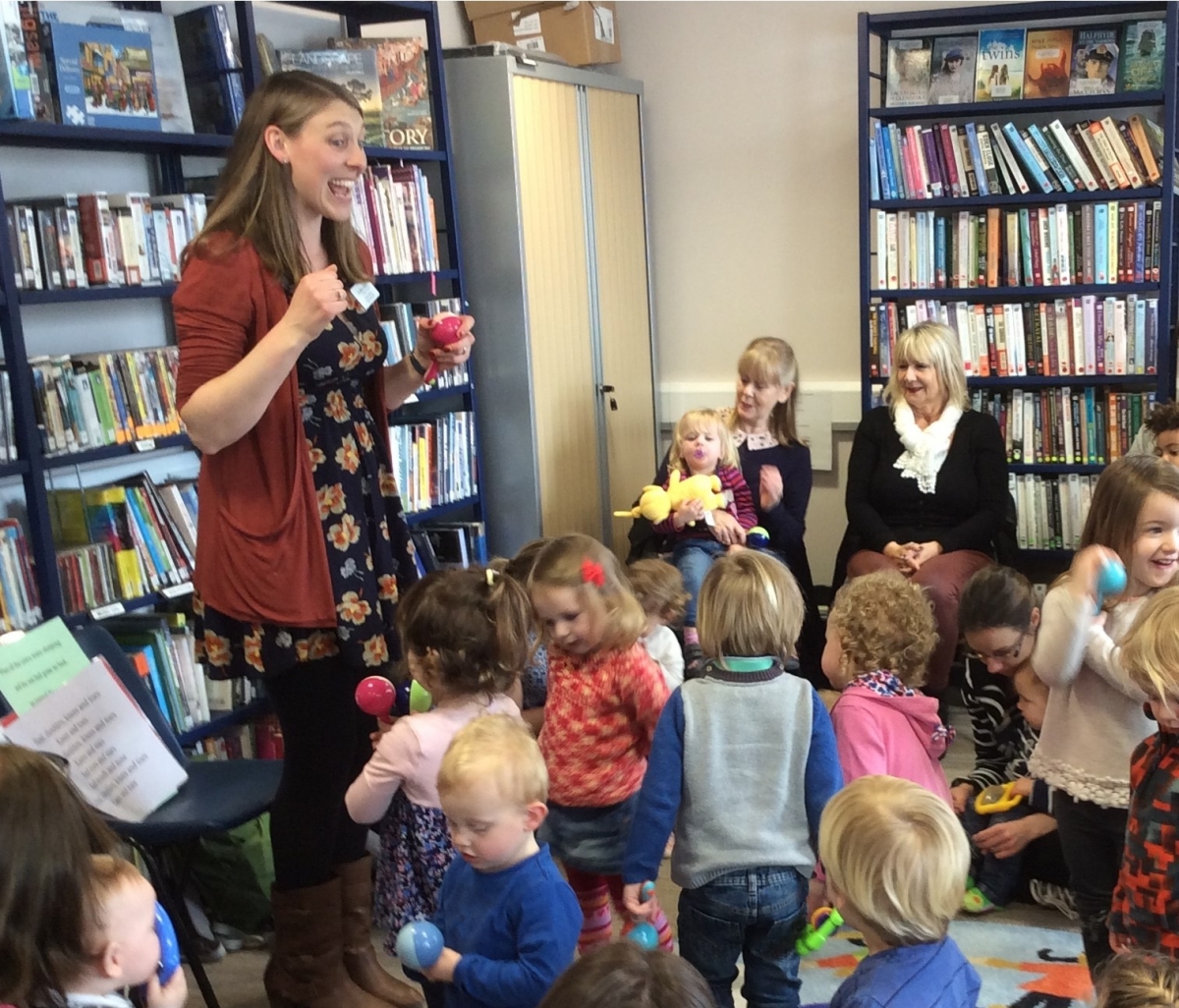 Outreach
Audiobooks on USBs - Jackie Burgess gave a talk about library services to the Macular Degeneration Group towards the end of the summer which has led to an increase in users of the audiobooks on USB service.
Prison Library - A new library management system was introduced at the prison which is a huge improvement on the old system.  The Outreach Librarian, Emily Pailing, is now able to manage the catalogue remotely instead of only having access from the prison library PC.  Along with the library closure, whilst the new system was being installed, a book amnesty was held to encourage the return of books.  Prisoners who failed to return all their items are now charged which has resulted in a massive drop in the number of overdue or missing items. 
A book group was set up to discuss Erwin James' books about his time in prison for murder, ahead of his visit to the prison as part of the Literary Festival.  This provoked some lively discussion in preparation for the event.
The Storybook Dad scheme continues, where prisoners record stories on to CD to send home for their children.
Homestart – the library continues to work with Homestart.  Both the Dads group and the Dragonflies group, who usually meet at Roseville, visited the library.  Both sessions went well, and lots of the members had either never previously been to the library or had not been since the new Children's Library has been opened.
Bright Beginnings - Emily has been working with Bright Beginnings to provide some sessions talking about reading and rhyming and making black and white books as part of their Maternal Mental Health support group, Beyond Blue.
Alderney - The Outreach Librarian also visited both the preschool and the toddler group for World Book Day at the beginning of March to do story and rhymetime sessions.  She also met up with one of the volunteers from the library who attended rhymetime and discussed some ideas for improving attendance at their library storytime.
In July, Emily also spent the morning at the preschool running the "Space Walk" activity that the Children's Team had offered to preschools in Guernsey to tie in with the 50 yr anniversary of the moon landing.  She also delivered the resources for Alderney Library to run the Summer Reading Challenge themselves.
Working with other professionals - In January we arranged for the Health Visiting team to hold their weekly meeting at the Library instead of at Lukis House.   The Outreach Librarian gave them a tour of the building and highlighted all the services we have to offer, especially those relevant to the families with young children who they visit.  Some of them had not been in the library for some time, and it was a great opportunity to encourage them to promote the library service to the families on their caseloads, many of whom will never have used the library.
Other activities - The addition of a new Outreach Assistant, Abi Tostevin, to the team means that we can offer regular rhyme times to more community groups.  All three Homestart groups receive a visit once a fortnight, and a new rhyme time has been established at Rock Tots (based at the Church on the Rock on the Bridge). Abi is also working with the charity Wigwam, who support families who have children with additional needs, to run a special sensory story time over half term.
3 Children's Library
All usual activities resumed in the new Children's Library in mid-January with everyone keen to see the new space.
The whole year has been very busy which really demonstrates the impact that the refurbishment has created. 
The Lost Words book – Spring half term saw the culmination of months of work put in by the Early Language Working Party, of which our Children's Librarian, Cornelia James, is a member, to promote language and communication through The Lost Words book.  Activities included: -
An exhibition of work by the island's preschools based on The Lost Words.  A digital exhibition was also available to view.
The Speech and Language Therapists hosted a Word Aware session to increase vocabulary, using The Lost Words.  BBC TV filmed the session and about 30 children attended.
We also collaborated with Guernsey Museums to devise a self-led Lost Words Island Trail over the whole of half term.
Again, with Guernsey Museums, the library committed to post a Guernésiaise word a day, as Robert Macfarlane, author of The Lost Words, posts a word a day on Twitter.
Children were able to add to a 'Lost Words Tree' in the Children's Library, which was decorated with 'lost' words from the book, such as 'ivy', 'magpie' and 'wren'. They were able to write what they loved about nature on leaves for the tree.
The response to this event was phenomenal with two Guernsey Press articles being published within a week.  The BBC showed the Speech Therapists' workshop both on the news and online.  Our social media channels were inundated with comments, likes and shares and our Twitter feed had regular feedback from the author Robert Macfarlane.
Tin Whistle event – During the Easter holidays there was an interactive, improvised storytelling session by local theatre group Tin Whistle in the story circle called 'The Untold Story'.  There was a full house with about 40 attending.
Summer Reading Challenge (SRC) - Over 1,600 Guernsey children signed up this year with 780 children completing the challenge. This year materials were sent out to Alderney, Sark and Herm and we also helped them promote the challenge.  SRC outreach posts were also set up at Kindred Family Centre and at the Youth Commission Playscheme.
Town Carnival - During the summer holidays we reached approximately 155 children with daily stories in Market Square.
Summer activities – We hosted an interactive story event with storyteller, Cassandra Wye during the summer break. Costs were shared for this event with Jersey Library and all 70 tickets were booked.  Cassandra also did an outreach session at Kindred Family Centre in the afternoon.
We also held stories, rhymes and an outdoor character hunt at Western Community Library (30 children), an interactive storytelling session with Senior Speech & Language Therapist Jo Lamb (35 children), a Space Story Walk at Delancey, relocated indoors at Bright Beginnings due to bad weather (37 children), space themed stories and crafts in the Hayward Room (25 children), a Bump and Baby Sensory workshop (12 babies) and a Young Adults Spoken Word Open Mic Night. This was our very first event of its kind, with five performers and twenty young people (16-21 years) attending, we felt it was a real success. Chatterbooks and the Teenage Book Club also met twice over the summer.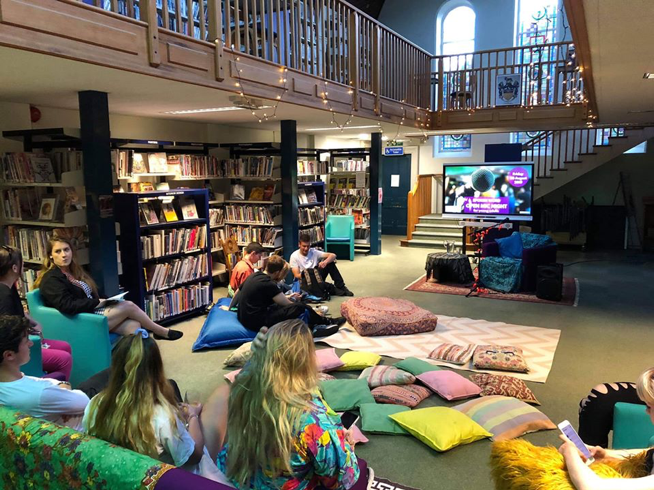 The Gruffalo - In September we held a launch for 'The Gruffalo' which has been translated into Guernesiaise in conjunction with Guernsey Museums. This included a reading by translator Yan Marquis and Chris Dye (from Island Language Group).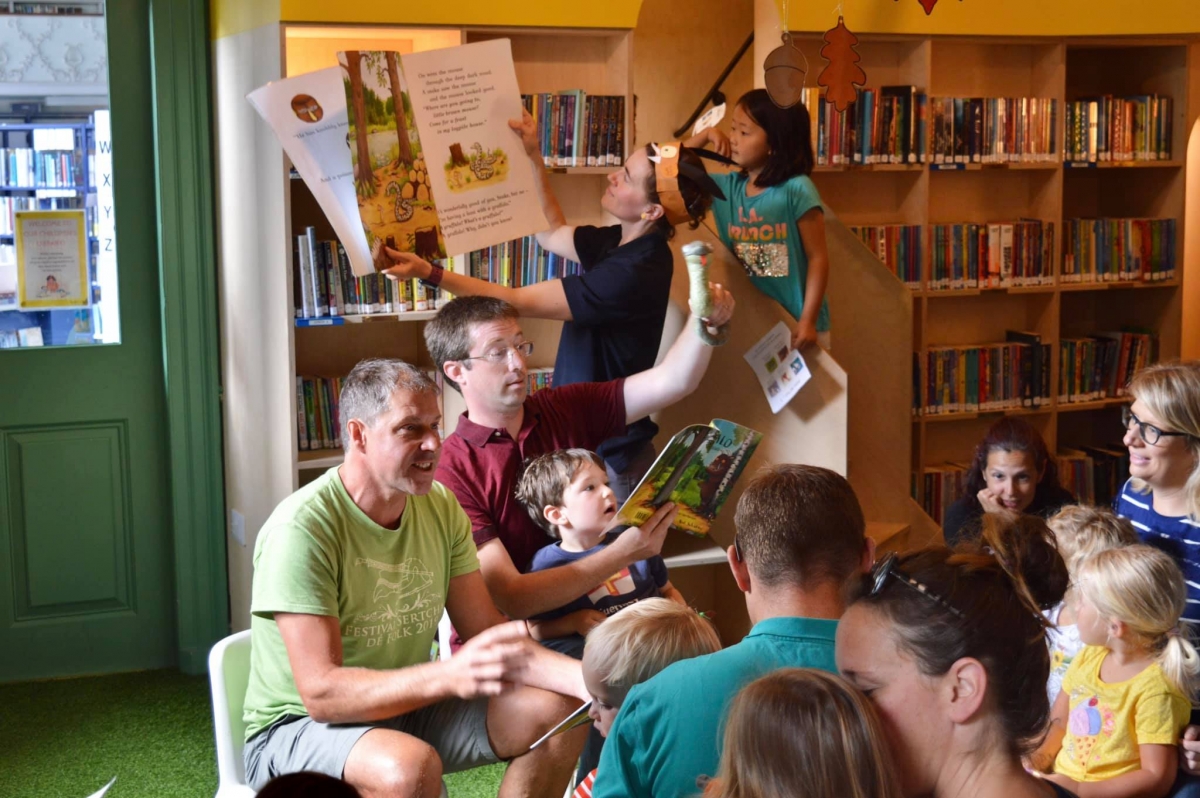 Nursery Rhyme Rumble – this was a joint initiative between the Library, the States Early Years Team and other service partners such as the Speech and Language Therapists and all of the Early Years settings.  The aim was to promote language and communication in young children through the use of nursery rhymes.  This was a fantastic collaboration with each setting being given a nursery rhyme to work on over the term.  The activities culminated with BBC Guernsey recording each setting singing their song, which has been made into a CD.  All the children's artwork was displayed in the Children's Library along with a digital display of photographs showing the settings working on their nursery rhymes. 
As part of this initiative, we held a Nursery Rhyme Story Walk at Les Cotils for both Monkey Puzzle schools (c. 60 children) and created a full programme of nursery rhyme events in the Children's Library during half-term, including a rhyme time every day of the week reaching c.160 children.  The Speech & Language Therapists also ran two special sign-along sessions for 22 children. 
To celebrate Halloween, we organised a Monster Story Walk with 30 children being guided through town to the Library, stopping for stories along the way.  Written feedback included: -
"Just fantastic! My 5 children aged 10 months - 9 years really enjoyed themselves. An all-inclusive activity executed amazingly. Would love more similar events!"
One of the Children's Team also read stories at Castle Cornet for the Museum's haunted castle event, with 60 children attending over two sessions.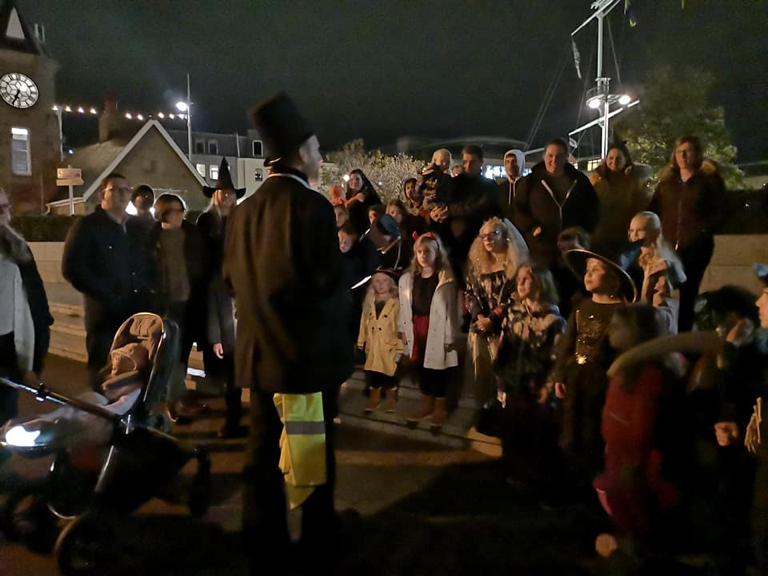 Christmas activities – Children's Team member, Neil, dressed in an Elf costume to entertain a total of 634 children with stories and rhymes in the run up to Christmas. He told stories at 5 different preschools, Candie Museum's Christmas events and late-night shopping, and met 25 children on the children's ward at the Hospital.  For the first time we also held an Elf Story walk; 39 children started at the Liberation monument and walked through town listening to stories, before finishing at the library.  Feedback from the Elf events was overwhelmingly positive: -
"Really entertaining my girls loved you the best thing they've done for a long time they said."
"My Son loved it and you too. He doesn't normally like stuff like this with his attention and that, but really wanted to come along so we gave it a go. Now he's saying he wants another one so fair play to you doing this sort of thing, and what you do outside and that. Good job fella"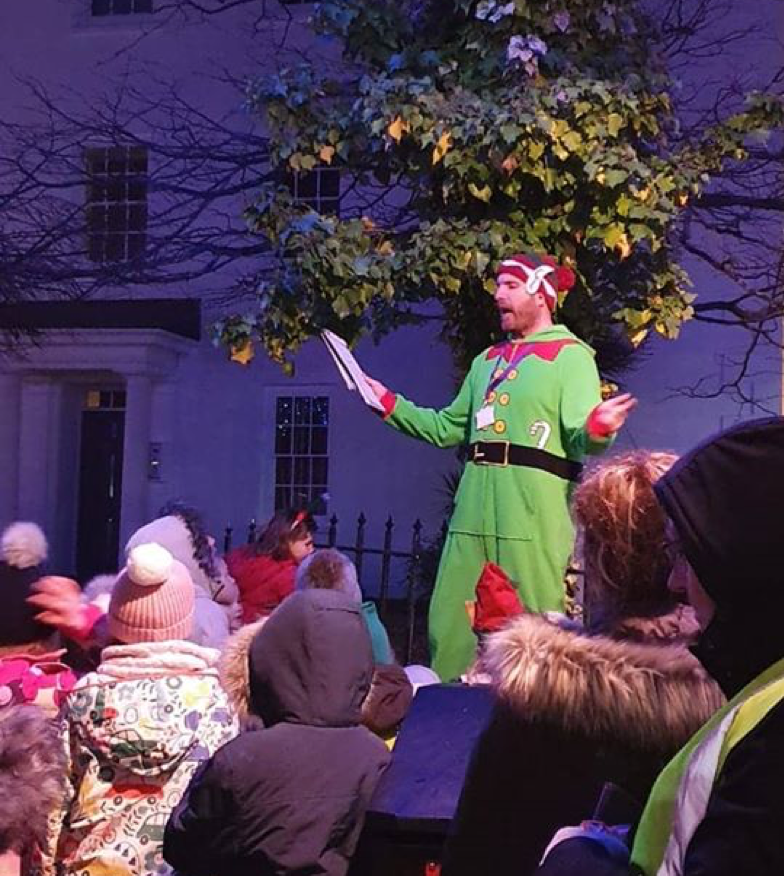 6 Future plans
The staff and service restructure instigated at the end of 2019 will continue to evolve throughout 2020.  It is essential that the library makes best use of resources both financially and in terms of the organisation.  To that end, the aim is to fully integrate the Public Library and Schools' Library Service so that we work as one service. 
There have been further discussions with the ESC regarding the costs of the maintenance of the library building, but no progress has been made.  The refurbishment of the Children's Library demonstrated how investment in the building and infrastructure can boost use of the service.  During 2020 we will be looking at ways of raising funding externally primarily through means of sponsorship.
We also hope to resume talks with ESC about the management of schools' libraries but may have to wait for resolution of current unrest over the reform of secondary education in the Island.  Whatever happens, we will ensure that we continue to look ahead and formulate ways in which the library service can progress in the future.