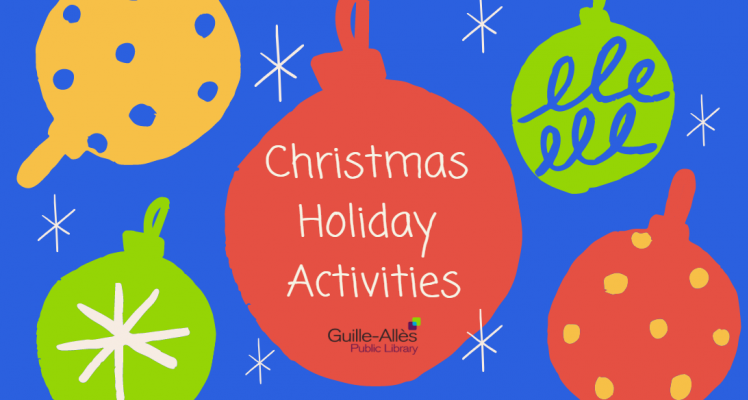 Christmas Holiday Activities
There's lots happening at the Library over the Christmas holidays!
All events are free and there's no need to book unless specified. Click the event titles to find out more. Get in touch with the Children's Team on 743635 or email childrens@library.gg
Merry Christmas!
Thursday 17 December
Festive Tales in the Tower
18.30-19.00 & 19.15-19.45 in the Story Tower
Most suitable for ages 4-10. Booking essential.
Tuesday 22 December
Tovertafel
14.00-17.00 in the Children's Library
Suitable for all ages
Wednesday 23 December
Little Puffin Christmas Sign-along
10.30-11.00 in the Children's Library
Ages 2-4. Booking essential.
Thursday 24 December
Christmas Elf Stories
10.00-10.30 in the Children's Library
Suitable for all ages
Monday 28 December
Board Games Day
10.00-16.00 in the Children's Library
Suitable for all ages
Tuesday 29 December
Storysack Stories & Activities
10.30-11.00 in the Children's Library
Most suitable for ages 4-10
Wednesday 30 December
Winter Stories & Crafts
10.00-11.30 at St Saviour's Community Centre
Most suitable for ages 4-10 
Thursday 31 December
Baby Social
10.00-11.00 in the Dorey Room
Ages 0-1
Chatterbooks Book Club
14.15-15.15 in the Story Tower
Ages 8-12
Teen Book Club
14.15-15.15 in the Dorey Room
Ages 13+
Monday 4 January 
Winter Stories & Crafts
10.00-11.30 at La Nouvelle Maraitaine Community Library
Most suitable for ages 4-10