"2016 has been a year where we have focussed on partnerships and community engagement. To quote Messrs Guille and Allès from the Constitution of the library in 1896, the institution was originally founded '… for the general welfare, advantage and culture of the whole community'. They encouraged activities and events in the library to foster learning and personal development as part of their desire to benefit all sections of the local community. It is easy to take the public library service for granted as an established community service. However, it is essential that the library continually reminds the public about the range of services it offers. 
It has been a very busy year and I have been amazed at the amount that we have achieved. 2015 was so successful, particularly in the number and range of events held, that I did not think we could match it. However, the staff proved me wrong and, once again, rose to the challenge. Their enthusiasm and talents appear to be endless and I am extremely proud of their contribution towards providing a thriving community service."
Laura Milligan, Chief Librarian

Facts and Figures
Visitors are up by 10% on 2015 figures. This represents an average daily footfall of about 480 people.  
New Members are up from 1,905 in 2015 to 2,064 in 2016.
Registered users for the e-book and e-audiobook service rose from 627 at the start of the year to 1,224 at the end of the year. We now hold 3,000 e-titles producing 5,500 issues over the year. This is definitely an area of growth which will continue to be developed in 2017.
 "Since discovering your e-books, I have been encouraged to read more.  I do not get to town often and borrowing physical copies would be inconvenient both collecting and returning, so thank you for this great service"  Reader comment received by e-mail.
Online magazines and comics checkouts rose by 10% during the year to 550 per month.  
The number of books on shelves was reduced from approximately 90,000 to 87,500 following the decision to weed out older titles held in store and to improve the quality, relevance and accessibility of the public collection.  
Adult fiction and children's loans continue to thrive. However, fewer traditional reference books such as encyclopaedias are consulted and shelf space has been freed up by removing a number of large sets of subject encyclopaedias and other directories.  
The Children's Library continued to offer 8 open sessions a week of story-telling, rhyme times and other activities which were all well attended. During 2016 351 sessions were held attended by a total of 3,306 children which is over 500 more than in 2015.
The Children's Library is a particularly busy area of the library and plays a key role in extending opportunities for learning and reading for pleasure from an early age. Children under the age of 16 account for nearly half of the library's total membership and 42% of total issues and renewals which equates to over 95,000 in 2016.
In addition to that the Children's Library held nearly 270 story and activity sessions for pre-school groups in the Library which reached about 2,400 children.  On top of this the Children's Library team were able to make over 100 visits to pre-schools and the Library loaned 1800 books to pre-school groups.
Website and online catalogue views were 25% higher than the previous year following the launch of our new website in March 2016.
Service development
A number of new online resources were added to our collection. Digital Theatre Plus was introduced at the beginning of 2016 giving 24/7 access to over 300 classic, contemporary and international productions on any device. In April a Kids & Teens virtual reading room was created on our Overdrive e-book/e-audiobook site. Instantflix was launched in September providing access to over 7,000 short films, features, documentaries, classic TV shows and web series from 85 countries. 
Our Social Media Team has been very active through the year publishing 481 tweets, with the Twitter feed being visited 19,439 times, and gaining 300 new followers during the year. We also gained more than 400 likes on Facebook to give us a total of 1,587 at the end of 2016. We also now have 1,158 followers on Instagram. 
Our Senior Library Assistant, Adam Bayfield has continued to add to our series of podcasts, interviewing an amazing range of authors including Stella Rimington, Simon Scarrow, Duncan Barrett, David O'Doherty as well as local authors, Jason Monaghan and Amanda Bennett. 
Our Youtube channel was used for story-telling by Moo the Monster aka Library Assistant, Neil Torode. Nother of our Library Assistants, Laura Perkins, ran a series of 7 basic lessons on how to use British Sign Language during Deaf Awareness week in April.
During the last quarter of 2016 we introduced email loan reminders. Library members who have registered their email addresses are now alerted three days before the due date to renew or return their items and avoid them becoming overdue. We also started sending an email newsletter, generally once a month, to help highlight upcoming events and new services to our members.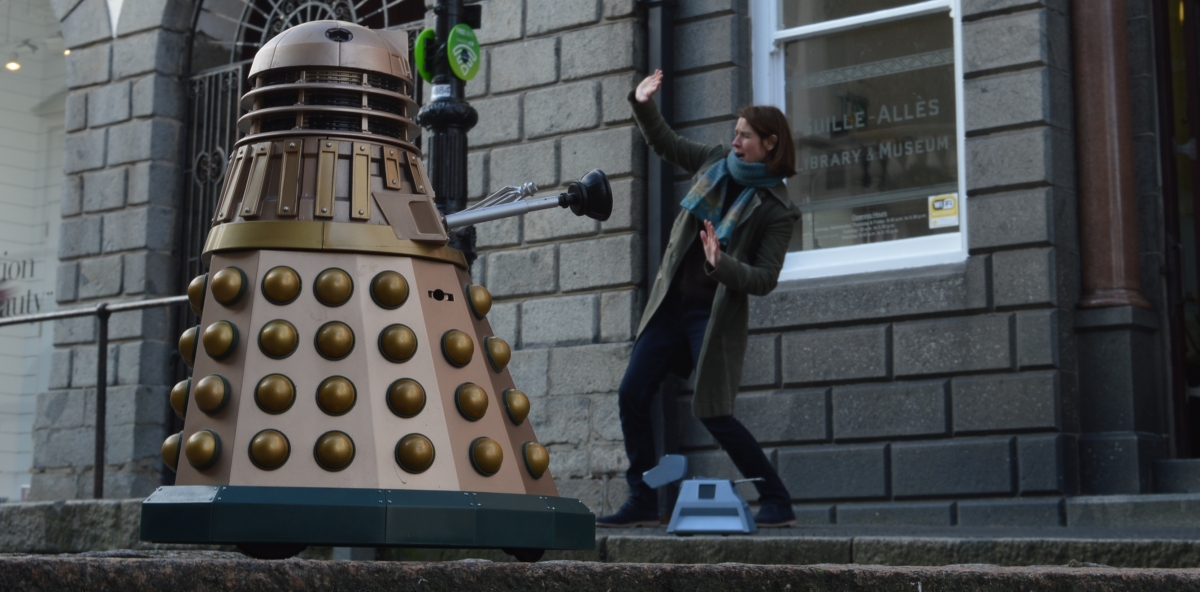 Events & Activities
In January talented members of staff initiated a Book 'n' Hook crochet and knitting club to meet once a fortnight. In the lead up to the launch the main staircase was 'yarn-bombed' with colourful displays of knitting and crochet.   
The Guille-Allès and Schools Library Service staff joined forces to have a presence at the Digital Ace Day at Beau Sejour in February. Over 1,000 parents and students attended to find out more about technology and using the internet safely. 
Dr Who Day took place on 6th February to celebrate National Libraries Day. Author, Tommy Donbavand, a Dr Who enthusiast who writes for the Dr Who adventure comic, held a workshop and talk about his love of Dr Who, attended by a total of 80 people.  
MESS in the Library (Marvellous Explorations through Science and Stories) for pre-school children replaced the traditional Story Stop in March. Children are able to engage in simple science experiments and listen to a story linked to the subject, for example, the weather, colours etc. It proved a big hit leading to being combined with the art group and transformed in to the STart Club, which is a 4-week programme of science, technology and art aimed at 3 to 5 year olds. 
The Library was the proud winner of the 'Visit Guernsey' window display competition. The theme was "Maritime" and staff took inspiration from Victor Hugo's novel "The Toilers of the Sea" using the fearful octopus from the book as a centrepiece. 
Bibliotots for pre-school children was set up by the French Workshop in May to run on a weekly basis. The company is providing these free introductory sessions for pre-school children to get started in French in exchange for the occasional use of one of the library's meeting rooms for tutoring. 
Book clubs took place weekly during each of the school holidays for 7-11, 11-14 and 14-18 year olds.   
Easter Eggstravaganza took place in the Children's Library on Easter Saturday. Liz Tucker, a Senior Library Assistant, brought in one of her pet rabbits, which proved a big hit with the children.
Children were invited to bring their Bedtime Buddies to the library for a story time and sleepover. Fifty children brought their Bedtime Buddies along to the library along with GP Ted. Children's Library staff recorded all the activities that the buddies got up to overnight to share with their owners the next day, such as races on the book trolleys! 
National Shakespeare Weekend took place in April, commemorating 400 years since his death. Visitors took part in a treasure hunt, craft activities and had the chance to take a Shakespeare 'selfie' with favourite quotes from the plays. 
As part of the celebrations for the Queen's 90th birthday, the Guille-Allès launched its Volunteer of the Year Award. The inaugural award was given to Jill Stephenson for her work at the Western Community Centre library since its inception 10 years ago.  
16th July marked the start of the Summer Reading Scheme (SRC) 'Big Friendly Read' with a Roald Dahl theme. 1511 children enrolled for the scheme with 987 finishing compared to 1334 children enrolling in 2015 and 929 finishing. Roald Dahl themed story and craft sessions for 5 to 10 year olds were held every Wednesday during the summer holidays with about 40 children attending each time.
Code-IT Summer Club was set up in collaboration with the Hub, Youth Commission, Autism Guernsey and the Digital Greenhouse. The Digital Greenhouse provided space and equipment for two hours every Tuesday from 2 to 4pm enabling Library staff members to run the club which was aimed at young people under 25 with autism. 
During Autumn half- term the library hosted a creative workshop to encourage children to design bookmarks for the Guernsey Literary Festival Bookmark Competition. Fifty children attended, gaining tips from local illustrator, Hugh Rose.
The Library Service had a stall at the Grammar School Wellbeing Fayre highlighting how it contributes to physical and mental wellbeing in Guernsey through initiatives such as the 'Reading Well' scheme which supports mental health and wellbeing through recommended booklists, including the most recent 'Shelf Help' booklist aimed at young people.  
During July and August staff manned a stall on Fresh Fridays in Market Square to promote the Library and its services to the many local people and tourists who take advatntage of the pedestrianised space, particularly at lunchtimes.  
A Library Beach Bike, inspired by those run by other libraries in the UK and worldwide, was trialled in August. The weather was not very kind but the two visits that went ahead, during which stories were read to children on the beach and promotional materials handed out, had positive feedback. 
The Library featured on the Town Carnival programme in 2016. Children's Library staff read stories twice a day in Market Square, attracting 335 people. 
The Pokémon Go craze brought a lot of people in to the library during the summer as the building was designated a 'Pokestop'. Attendance was good at our Pokémon Lure Drop party, held on 6th August, at which Pokémon themed competitions and activities ran throughout the day. 
As in previous years the library had a tent and stand at the North and West Shows. As always, story times were very popular and staff also made use of the opportunity to talk to members of the public about some of the newer services at the library. 
National Coding Week in September saw the launch of Cyber Seniors, a fortnightly drop-in IT support session for older people, as well as a new pre-school Coding Club. Pre-schoolers have loved trying out the 'Ozobots', iPads and computers.   
At the beginning of October, the Library took part in the national Fun Palaces weekend. The theme was 'Everyone a Scientist, Everyone an Artist' and it proved to be a great opportunity to promote the Library as a place for lifelong learning and creativity with various different creators and artists providing workshops and tutorials in the Library throughout the day. Events were also run by the Museum so both organisations were able to benefit from cross-promotion with Children's Library staff reading stories at Candie Gardens on both the Saturday and Sunday.
U3A (University of the Third Age) have used library meeting rooms during the year and also requested a tutorial on the library's digital resources. People brought their own devices and were shown how to access e-book platforms and other digital services.
During Get Online Week the Library promoted its digital resources with a competition encouraging people to sign up and download an e-book or e-audiobook from the new Borrowbox service in order to win an iPad Mini.  
Star Wars Reads Day took place in October with activities including a "Puzzle Room", where a series of puzzles had to be solved in order for participants to escape the room within a certain time scale. 
For International Games Day in November, the Library partnered with Meeple People, Guernsey Gaming for Good, and Loading Bar Guernsey to expand on the success of the 2015 event, and run a full day of board games, video games, cards, dice and giant games aimed at all ages. We were also fortunate to host a demo of a new board game designed by local games designer Kurtis Richards.   
Following last year's experiment on one of the late-night shopping Thursdays, the Library once again took part in the Christmas Late-Night Shopping events on all three Thursdays in December.  Each evening was well attended, even during bad weather, with users coming in to change books, study, or take part in our Christmas Crafts. Our Library Elf, aka Neil Torode, Library Assistant, read stories in Market Square and we received a number of positive comments from the public both verbally and on social media.

Community & Outreach
Children's Library staff continued to regularly attend Family Visits in Guernsey Prison to engage children in stories and crafts.
Following on from previous successes, permission was given to run more Storybook Dads session in June, where prisoners are able to record stories to send home to their children.   
The Outreach Librarian also worked with one of the prison guards to help set up a book group for prisoners to be run on a Sunday.  
For the first time the library welcomed a volunteer from the prison as part of his "Release on Temporary License" programme. The prisoner had worked in the prison library for some time and was very enthusiastic about the opportunity to do further Library work.  
The Outreach Librarian started work with the Education Team at the Prison to set up a peer mentor Reading Scheme, where literate prisoners volunteer to teach illiterate prisoners to read. A UK charity called the Shannon Trust supports the initiative, and provides all the reading scheme resources for free. 
The Outreach service continued to support Homestart, a national charity that helps families with young children meet the challenges of everyday life, with their Dragonflies drop-in centres and social events. 15 families from the Roseville group visited the library in September for a rhyme time and tour.
Our Outreach Librarian visited the Kindred Family Centre once a fortnight and was involved in the Incredible Years programme, running literacy-based sessions for parents culminating in a visit to the Library. With the number of children attending the Kindred drop-in sessions increasing it was decided to have a presence at the centre during the summer holidays, providing an opportunity to run the Summer Reading Challenge from that location along with two story sessions at each visit.
Monthly visits have also continued to Frossard Ward at the Princess Elizabeth Hospital to engage children in stories.
During the year 99 Outreach sessions were held, involving over 1,700 pre-school children.
Guernsey Alzheimer's Association (GAA) requested the long-term loan of a collection of books on Alzheimer's, dementia and caring for people living with the condition.  
Reading Well Books on Prescription for Young People was launched in April. It comprises a booklist of 35 titles suitable for 13 to 18 year-olds providing support and advice on common mental health conditions, such as depression, anxiety and stress.  The books, which include self-help, psycho-education, memoirs, graphic novels and fiction, have all been chosen by young people and health professionals.  
Library staff have worked with representatives from Autism Guernsey to ensure that the library is 'autism friendly'.  Two new weekly drop-in sessions at the Library were launched, one for parents and carers and one for teenagers with autism. 
Guernsey Museums and Libraries Association has continued to meet regularly leading to more collaboration between local services and much greater understanding of each other.
In February a contract was agreed with the Guernsey Housing Association (GHA) for the Library to have use of a dedicated room at La Nouvelle Maraitaine to run a Community Library. President of the Committee for Education, Sport and Culture (ESC), Deputy Paul Le Pelley, presided over the official opening ceremony on the 3rd June. This expands the number of Community Libraries run by volunteers and supported by Library staff to four, alongside Western Community Centre, Rosaire court and The Bridge.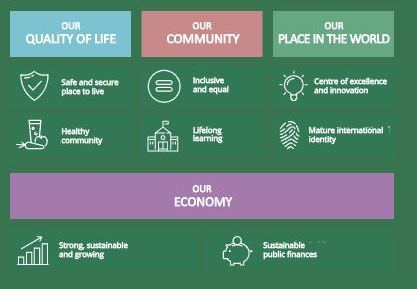 The Future
The Public Library Service and the Schools Library Service will be taking part in the PwC Review of the Education, Sports and Culture Department. It is likely that plans for 2017 will evolve from the outcome of this review but the intention right now is to continue to build on our community partnerships. There is scope to develop and strengthen existing collaborations but also to establish new ones, for example the Bright Beginnings Children's Centre.
"Future Guernsey" – Phase one of the States of Guernsey's Policy and Resource Plan, published in November 2015, provides a valuable blueprint for a 20 year vision for the Island, with library services fitting into each element of the plan – quality of life, community and place in the world. The States' vision to ensure that Guernsey, 
"… will be among the happiest and healthiest places in the world, where everyone has equal opportunity to achieve their potential.  We will be a safe and inclusive community, which nurtures heritage and environment and is underpinned by a diverse and successful economy",
fits closely with the Guille-Allès' own mission statement: 
"to contribute to the enjoyment and inspiration, cultural values and learning potential of the people of the Bailiwick, by making all kinds of knowledge, information and works of imagination readily available to all." 
As such, the Library Service's aim for 2017 must be to continue to give free access to a wide range of information resources and to provide support and guidance to people in finding the information and knowledge they require to achieve their full potential. The library can help underpin the formal education process and provide lifelong opportunities to those who have not achieved in the formal process for whatever reason, as well as helping to build a firm foundation in literacy and digital literacy at the pre-school stage.